LMA not superior to face-mask ventilation for lowering death risk in neonatal asphyxia: NEJM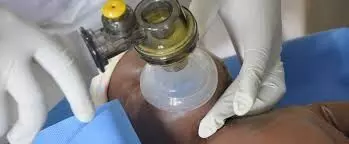 Researchers have found in a new study that laryngeal Mask Airway is not as effective as face-mask ventilation in lowering early neonatal death and moderate-to-severe hypoxic–ischemic encephalopathy. The study has been published in The New England journal of Medicine on 26, November 2020.
Face-mask ventilation is the most common resuscitation method for birth asphyxia. Ventilation with a cuffless laryngeal mask airway (LMA) has potential advantages over face-mask ventilation during neonatal resuscitation in low-income countries, but whether the use of an LMA reduces mortality and morbidity among neonates with asphyxia is unknown.
Birth asphyxia is the third leading cause of neonatal death, accounting for approximately 700,000 deaths each year. Effective positive-pressure ventilation is the most vital step in neonatal resuscitation. However, delivering proper tidal volumes with a face mask is difficult due to Mask leakage, airway blockage, and poor chest expansion. International guidelines have suggested the use of the laryngeal mask airway (LMA) in cases of failure of positive-pressure ventilation with the use of a face mask during resuscitation of neonates or if intubation is unsuccessful or not feasible. The effectiveness and safety of the LMA as compared with the face mask have been identified as important knowledge gaps. So the researchers conducted a Neonatal Supraglottic Airway (NeoSupra) trial to compare the use of uncuffed LMA (Laryngeal Mask Airway) vs. FMV ( Face MAsk Ventilation) during neonatal resuscitation.
It was a randomised controlled, open label, phase 3 superiority trial in Mulago Hospital, Kampala, Uganda. A total of 1154 neonates had an estimated gestational age of at least 34 weeks, an estimated birth weight of at least 2000g or both were included. They were randomly assigned to either LMA group (n=563) or FMV group (n=591). Researchers determined the primary outcome as a composite of death within 7 days or admission to the neonatal intensive care unit (NICU) with moderate-to-severe hypoxic–ischemic encephalopathy at day 1 to 5 during hospitalization.
Key findings of the study were:
♦ Researchers found, about 27.4% neonates in LMA group and 24.4% neonates in FMV group reached the primary outcome.
♦ They also found 21.7% of the neonates in the LMA group and 18.4% of those in the face-mask group were dead within 7 days of resuscitation.
♦ Admission to the NICU with moderate-to-severe hypoxic–ischemic encephalopathy at day 1 to 5 during hospitalization occurred in 11.2% in LMA group and 10.1% in FMV group.
♦ The frequency of predefined intervention-related adverse events was similar in both groups.
"In our trial, the LMA was safe in the hands of midwives but did not result in a lower incidence of early neonatal death or moderate-to-severe hypoxic–ischemic encephalopathy than face-mask ventilation among neonates with asphyxia" the Authors concluded.
For further information:
Article Source :
The New England journal of Medicine