Anti Corruption Bureau catches Health Department's official red handed taking Rs 7000 bribe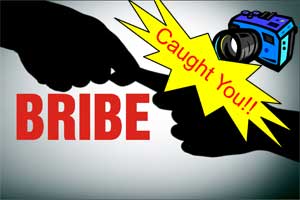 Hyderabad: The sleuths of Anti-Corruption Bureau (ACB) have recently caught a Medical and Health Department official while accepting a bribe of Rs 7,000.
K Shiva Prasad, Sr Asst, Nursing Section, Directorate of Medical and Health was caught red-handed at his office when he demanded and accepted the bribe amount of Rs 7,000 from the complainant M Balasubramanyam of Rajender Nagar.
He asked for an official favour from Ms Hepsibha Rani, in order to hand over the copy of leave sanction on the order of District Magistrate, an ACB official said in a statement.
The accused officer K Shiva Prasad was being arrested and produced before the ACB Special Court here.
Read Also: Madhya Pradesh: In-charge civil surgeon held for taking Rs 20,000 bribe