Apollo Hospital gave Contradictory Reports on Jaya's Treatment, alleges DMK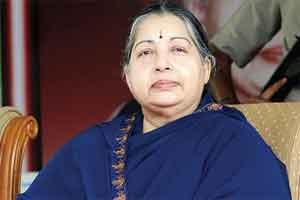 Chennai: Dravida Munnetra Kazhagam (DMK) candidate Thiruparankundram Sarvanan raised doubts over the death of former Tamil Nadu chief minister J. Jayalalithaa, claiming that Apollo Hospital had given contradictory reports on her 75-day-long treatment.
"I have appeared before the commission and given the explanation. I have highlighted that there are contradictions between the actual condition of former Chief Minister Jayalalithaa as presented by the Apollo Hospital found on the official website and various press releases given by the hospital over the due course of over 75 days of treatment," Sarvanan told ANI.
He added that there are a lot of contradictions between the actual health state of former CM in the press release of Raj Bhawan and the condition which was explained to the public.
"Tomorrow, I am submitting some important documents regarding the fingerprints and forged signatures, and the commission will continue its investigation as well," he said.
Earlier on November 3, the Supreme Court dismissed a plea challenging the enquiry commission constituted to probe former Tamil Nadu Chief Minister Jayalalithaa's death.
Earlier on October 30, a probe relating to the death of former the Tamil Nadu chief minister begun.
In September, Retired Madras High Court judge, Justice Arumugasamy, was appointed to head the probe into the death of Jayalalithaa, following Chief Minister E Palaniswamy's announcement in this regard.
The Tamil Nadu government had set up the inquiry commission in September to investigate Jayalalithaa's death. Report is to be submitted in three months.
This decision of the state government comes after Tamil Nadu's Minister for Forests Dindigul Sreenivasan revealed that all ministers of the state had lied to the people about hospitalization and death of the former AIADMK general secretary and said that only former confidant V K Sasikala and her family had access to see ailing Jayalalithaa.