Apollo Hospitals extends Air Ambulance services to second-tier cities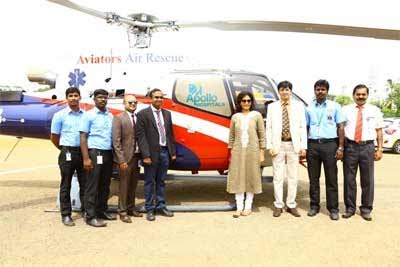 New Delhi:  Apollo Hospitals, Asia's largest and most trusted multi-specialty chain of hospitals announced the extension of its air ambulance services network to several smaller cities and towns like Madurai, Mysore, Kakinada, Karaikudi, Karur, Trichy and Vizag through its current hubs in Chennai, Hyderabad and Bangalore. Several people in India don't get medical attention within the golden hour which is very crucial in saving lives. Apollo's air ambulance service will address the emergency medical need of people who are on the outskirts and far from the city limits.
Each of the Apollo air ambulances will be manned by a full-fledged medical crew trained in critical pre-hospital care protocols to address emergency victims and critically-ill patients. The launch is in partnership with Bengaluru-based Air Aviators Rescue who will provide helicopters and the logistics support to Apollo Hospitals.
The air ambulance was launched by Dr. J Radhakrishnan IAS, Principal Secretary to Govt. of Tamil Nadu, Health and Family Welfare Department and Dr. Prathap Reddy, Chairman, Apollo Hospitals Group, in the presence of Dr. Preetha Reddy, Vice Chairperson, Apollo Hospitals Group and Capt. Arun Sharma, Managing Director, Aviators Air Rescue Pvt. Ltd.
Apollo Hospitals pioneered air ambulance emergency services in the country way back in 2003. With subsequent launch of these services in Delhi and Bangalore in 2004 and 2007, Apollo Hospitals has seen a steady increase in number of patients using this service. Through partnerships with various aviation companies, at an average, Apollo Hospitals air transfers around 125-150 patients in a year.
Dr. Prathap Reddy, Chairman, said, "We have always believed all Indians across metros and smaller cities and towns must receive international quality care. It gives me immense satisfaction extending this service to Mysore, Madurai, Trichy, Karaikudi, Kakinada, Karimnagar and Vizag.  With this launch I hope that we have increased the chances of patients in the smaller towns and cities getting medical attention they deserve in the golden hour. While our expertise is in offering world class emergency care, Air Aviators Rescue's expertise is in operating medical air ambulance fleets. Combining the strengths of both partners amplifies the efficiency of our services and delivers the best quality of care.  I wish all the very best to Apollo's Air Ambulance team for pioneering in setting up a superlative first response team. I truly believe that the air ambulance will deliver unparalleled medical support and service to people."
Emphasizing on Air Ambulance as is the need of the hour Dr. Preetha Reddy, Vice Chairperson, Apollo Hospitals Group, said, "Air ambulance could cut travel time by as much as 90%. Over 60 million people in India are affected with cardiac diseases, over 0.5 million road accidents occur annually where at least about 0.1 million deaths are reported year on year, immediate medical attention can go a long way in saving lives. We have partnered with Air Aviators Rescue to offer 24X7 emergency services to patients in need. We believe in leveraging core competencies of partners."
Unlike other helicopters these helicopters are built exclusively for transporting emergency victims. The medical crew for all transfers is from Apollo Hospitals. A set of trained and qualified emergency physicians and paramedics have been specially trained for air evacuations and these teams will be on all air-transfers. These services offer support to all types of accident and emergency patients including pediatric patients.
All life-saving equipment will be available on board and even the most serious patients can be shifted using Apollo's air ambulance services. Apart from emergency patients, organs from brain dead patients for transplant in a different location will be transported using this air ambulance network. With the introduction of this network and the existing services in Delhi, Apollo Emergency Services will be accessible to people living across south, central and north India.
Establishing milestones in Emergency Care


Started emergency medicine as a specialty in the country in 1997


Started the first dedicated accident & emergency hospital in the country in Hyderabad in 1997


Launched Air Ambulance services for the first time in the country with the first patient landing in our Hyderabad hospital in 2003


Launched Air Ambulance services in Delhi in 2004


Launched Air Ambulance services in Bengaluru in 2007


Reached an average of 125-150 air transfers a year across the group


How to avail the service


Call our Emergency Response Service 1066 and provide primary information regarding the emergency


Our Paramedic shall assess the medical condition by asking Cardinal, Probing Questions and provide on Call First Aid Advice to manage the patient till the medical help arrives


The Paramedic/ Doctor will approve the mode of Transportation (Ground and / or Air Ambulance) and will alert the Emergency Dispatch Management unit


Ground Ambulance provides onsite primary medical care and shifts the Patient to the Nearest Stabilization Centre to preserve the Golden Hour


Ground Ambulance Transfers the Patient to the predetermined Helicopter Landing Zone


The patient will be brought to the nearest Apollo Hospital for immediate care from the closest landing zone


The cost of the services will range from Rs.1.6 to 2 lacs per hour