Apollo launches first integrated hospital in Guwahati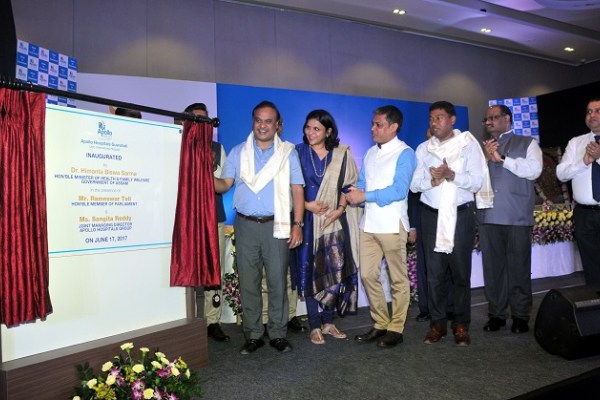 Guwahati: Apollo Hospitals Group, a pioneer of healthcare in India, launched their first fully integrated multi-speciality hospital in the city.
The hospital was inaugurated by Assam Health minister Dr. Himanta Biswa Sarma, in the presence of Rameshwar Teli, Member of Parliament, Dibrugarh, Siddharta Bhatacharjee, MLA, Guwahati East, Ms Sangita Reddy, Joint Managing Director, Apollo Hospitals Enterprise Ltd., Dr. K Hariprasad, President, Hospitals Division, Apollo Hospitals Enterprise Limited, Mr. Satyamrit Kagti, Director, Apollo Hospitals, Guwahati and Dr. Ashish Malakar, CEO, Apollo Hospitals Guwahati.
Apollo Group of Hospitals has invested into an existing hospital (International Hospital) in Guwahati and has upgraded it into an ultra-modern state-of-the-art facility to cater to the needs of the people of Assam and the North-east.
It is currently a 220 bedded super-specialty hospital offering services across 50 specialties and super-specialties.
The hospital is further being expanded with the addition of 100 more beds and newer specialties including Oncology and Cardio-thoracic surgery.
Speaking on the occasion of the 19th anniversary of the hospital, Ms. Sangita Reddy said, "Our journey of healing began in Chennai with the launch of the country's first private tertiary hospital. Over the years, Apollo has earned global recognition for its highly skilled medical talent and world class infrastructure that enable it to deliver clinical outcomes that compare with the best institutions in the world, at an affordable cost. Apollo Hospitals is committed to provide high quality healthcare in modern facilities to all the people living in and around Guwahati."
"With a dream of providing best healthcare, we started off with International Hospital. And now we have entered into a strategic tie up with Apollo Hospitals. We are extremely privileged that Apollo finally chose to extend its services in the Northeast and that too with International Hospital", expressed Mr Satyamrit Kagti, Director, Assam Hospitals Ltd.
"Today is a very important day in the healthcare sector of Assam as Apollo has finally arrived. They are the revolutionaries in bringing premium healthcare to the nation. From now, Apollo and International Hospital will run jointly and best medical care will be provided to the patients. International Hospital in the past had done a lot of pioneer work. And now, with their tie up with Apollo, best of innovative and high quality service offerings will be provided to the citizens", said Dr. Himanta Biswa Sharma said.
He added, "Because Assam is in a geographical proximity to Bangladesh, Myanmar, Bhutan and other neighbouring countries, a lot of patients come for their for medical treatment which is very good opportunity to expand medical tourism of our state. Guwahati has the potential of becoming a medical care hub provided we offer highest standard of clinical outcomes and quality of life for our patients."
To mark the launch of the hospital, the team of doctors and nurses along with other staff members conducted a walkathon in the morning.