Arvind Kejriwal pays surprise visit to DDU Hospital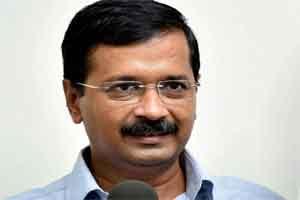 New Delhi: Continuing with his surprise visits to hospitals, Delhi Chief Minister Arvind Kejriwal went to a government-run hospital in west Delhi's Hari Nagar area to take stock of the situation.
The chief minister, accompanied by Health Minister Satyendar Jain, went to several wards at the Deen Dayal Upadhyaya Hospital and talked to the patients there, said an official.
Kejriwals visit caught the doctors and officials by surprise even as the people approached him with their problems. Some were seen taking photos of the chief minister.
"Is everything alright here? Are you getting all the medicines?" Kejriwal asked a patient.
The chief ministers visit comes days after his inspection of the Sanjay Gandhi Memorial Hospital, where he had found "several deficiencies" and expressed displeasure over the state of affairs.
The Aam Aadmi Party (AAP) supremo had also expressed unhappiness over the action-taken report following his May 25 inspection and directed Chief Secretary M M Kutty to visit the hospital and submit a report.
Kejriwal has also written to Lieutenant Governor Anil Baijal and sought removal of the medical superintendent of the Sanjay Gandhi Memorial Hospital over the "deficiencies".
The DDU Hospital started operating in 1970 with 50 beds. The number of beds was increased to 500 in 1987. In the same year, the casualty ward started functioning at the hospital only during the day. From April 1998, the ward became functional round-the-clock.
In 2008, a trauma block was commissioned, which increased the bed strength of the hospital to 640. The emergency services were shifted to the new block with an expanded emergency room and wards.
The DDU Hospital offers specialised services to the people of west Delhi. It also imparts training to post- graduate and undergraduate medical students as well as paramedics.
Incidentally, Jain had paid a surprise visit to the Guru Teg Bahadur (GTB) Hospital at Dilshad Garden on May 30. During his visit, the health minister had interacted with the patients and their family members.
With nearly 100 cases of chikungunya reported in the national capital before the onset of the monsoon, Jain, after his inspection of the hospital, had claimed that the Delhi government was prepared to handle any possible outbreak of vector-borne diseases.