Assam: Female on-duty doctor physically assaulted by inebriated men; 2 arrested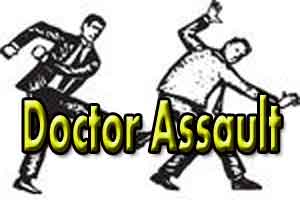 All the three men started misbehaving with the lady doctor, who was on-duty then. This was soon followed by an atrocious act as they physically attacked and assaulted the doctor.
Jorhat: In a shocking incident, a female on-duty doctor attached to Tezpur Medical College and Hospital was physically assaulted after being misbehaved with by three intoxicated men, who were later arrested based on an FIR filed by the medical practitioner.
As per recent media accounts, the incident took place on the night of November 30 (Saturday) when three men brought a patient from Gorubandha Missamari area to the hospital. The men introduced themselves as the patient's friend. However, later, all three of them started misbehaving with the lady doctor, who was on-duty then. The obscene act by the trio was soon followed by assault as they physically attacked the doctor.
Also Read: Bring Immediate Ordinance to Curb violence against doctors: IMA to PM Modi
Thereafter, a complaint was moved by the medical practitioner with the police. A case was registered against all the three accused and two of them were arrested the very next day.
Preliminary investigation indicates that all the accused men were in a drunken state when they physically attacked the doctor.
The arrested men were produced before a local court in Tezpur and sent to judicial custody, stated Sonitpur SP Kumar Sanjit Krishna while speaking to TOI.
Medical Dialogues had earlier reported about the brutal assault of 73-year-old Dr Deben Dutta to death by a mob of 250 people following the death of a patient.
Also Read: 73-Year-old Elderly doctor Dr Deben Dutta assaulted to death in Assam tea garden following worker death