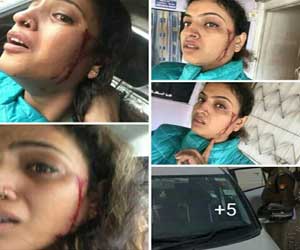 Digboi: An unfortunate and disgraceful incident of attack on an ophthalmologist on duty has triggered sensation in the oil town. The female doctor was severely injured after she was attacked on her way to the hospital during a bandh. Not just this, her car was vandalized from every side. The three accused involved in the shameful act have been arrested by the local police.
The All Assam Tai Ahom Students' Union was on roads to protest against Citizenship (Amendment) Bill, 2016 and 12 hours bandh was carried out across the vicinity when the doctor was attacked in 3 No, Golai area.
Dr Divya Borthakur, an eye specialist serving at Central Hospital NEC Coal India Limited under Margherita sub-division was on her way to the hospital when the protesters stopped the car and pelted stone on it after which the doctor suffered a head injury.
Read Also: Doctor Attacks Director Health Services with Metal Rod over Pending Dues
Dr Borthakur told the Telegraph, "My husband stepped out and showed them his identity card and said he was going to Digboi civil hospital to attend to patients. They surrounded our car and started hurling stones. One of the stones hit me on my face. The window panes of the car were smashed into pieces and the shards filled our vehicle. We kept pleading that we are doctors and were going to the hospital, so let us go. They shouted imaan sahos, amar bondhot ghoror pora ulaise. Ei din dutyot nohole ki hoye ten (You have the courage to disobey our bandh call and step out of home? Nothing would happen if you do not attend duty for a day). Then they started hitting our car from all sides, bending the doors. I took out my mobile phone to call for help when one of the protesters tried to snatch it. They dragged out my driver Tahir Ahmed. We pleaded with them to leave him since it was not his fault. Finally, when they saw everything was damaged, they left us. Then Tahir took us to Digboi police station where my husband lodged a complaint."
The Digboi police registered a case against the miscreants under Sections 341 (wrongful restraint), 336 (act endangering life or personal safety of others), 325 (voluntarily causing grievous hurt), 395 (dacoity), 511 (attempting to commit offences punishable with imprisonment for life or other imprisonment), 427 (mischief causing damage) and 34 (acts done by several persons in furtherance of common intention) of the IPC against the attackers.
Officer-in-charge of Digboi police station Mahesh Bora told the Telegraph, "One of the stones hit the woman on her face. The bandh supporters also attempted to snatch her mobile phone when she tried to call for help. Based on an FIR filed by Biswadeep and after his wife identified two attackers from pictures of bandh supporters we showed her, we arrested Bipul and Jintu from Borbil in Digboi."
"During interrogation, the two arrested named another accomplice, Bikash, who was also arrested. We produced the trio in a local court, which sent them to judicial custody. We are trying to identify more bandh supporters who were part of the group that attacked the woman and more arrests will be made soon," he further added.
3 comment(s) on Assam: Protesters against Citizenship Bill injure female Ophthalmologist, 3 arrested