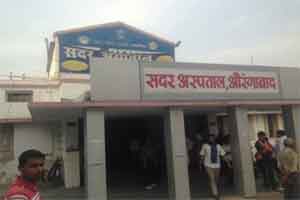 Sadar Hospital in Aurangabad is an ISO certified (2011) hospital, and attends to 1,500 patients visiting the hospital every day. However, it still lacks the basic amenities, with reported shortage of doctors and drugs.
The 100 beds hospital also lacks adequate medicines, toilets, anti-rabies vaccines etc. Also, only 7 doctors are reported to be working as against the sanctioned strength of 25 posts.
.
The hospital is also in violation of the National Rural Health Mission (NRHM) norms, in which only 40 patients can be treated by a doctor in a day but at Aurangabad sadar hospital, a doctor has to treat over 150 patients every day.
As reported by TOI, I can't describe you the problem we are facing daily. We have to tackle the heavy rush of patients in the OPD while the attendants pressurize us to attend their patients admitted to different wards of the hospital," said a doctor on condition of anonymity.
Although a board installed at hospital claims 133 medicines are available for the OPD patients and 33 for indoor patients, the reality is different. Hospital sources said only 5 to 6 medicines are available.
Chief medical officer-cum civil surgeon (CS) Rampratap Singh admitted shortage of doctors in the hospital. He said earlier doctors had been deputed from the primary health centres (PHCs). "But the deputations had been cancelled and that is why the problem is growing," he said adding he had sent letters to higher authorities and the matter would be solved soon.
0 comment(s) on Aurangabad: Sadar Hospital lacking in basic amenties