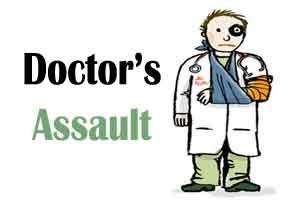 A resident doctor of Dr Shankarrao Chavan Government Medical College and Hospital, Nanded was allegedly assaulted after a patient reportedly died due to a serious brain condition. Not only the three relatives of the deceased family created a chaotic situation, but also allegedly mishandled a pregnant nurse in the scenario.
While the hospital security tried to take control of the situation, the local police was also required to intervene in the matter.
After which, the hospital authorities lodged a complaint with the Nanded rural police, and now the three relatives involved in the incident are reportedly under arrest on alleged charges of obstructing  government employees in their duty. The case is being further investigated by the police.
Highlighting the details of the incident to be further probed, the Dean of Nanded GMCH Dilip Mhaisekar is implied to have said that the patient was admitted after a brain ailment, and was reported to be in a critical condition after two days of admission in the hospital. It was later confirmed that the patient was suffering from cerebral infarction.
As reported by TOI, "Despite informing about the patient's condition, none of the male relatives came to the hospital. When the patient succumbed to the disease, about three male relatives arrived at the hospital and started creating a ruckus. They not only assaulted a resident doctor on duty but also manhandled the nurse, who was pregnant," said Mhaisekar.
Considering the rising assaults on the doctors, the Maharashtra Association of Resident Doctors has demanded that the government amend the Doctors Protection Act, 2010 to increase the imprisonment period from 7 years to 8 years.
"Scenes of doctors being attacked and assaulted by the relatives of the patients has become a regular affair with 32 assaults being reported from state government medical colleges hospitals last year. This is the first case registered this year," MARD president Sagar Mundada said.
The Nanded GMCH has seen seven attacks on resident doctors in the last one-and-a-half years. "In such circumstances, it has become difficult for the resident doctors to render their services," said MARD president (Nanded chapter) Sanju Mutyepod.
0 comment(s) on Aurangabad: Three family relatives allegedly assault resident doctor