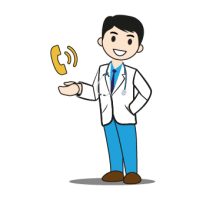 Delhi: AIIMS doctors will now be literally available on call for thousands of children and their parents across the country, to help them address the growing concerns on neurodevelopment disorders.
Recently, a helpline has been launched at All India Institutes of Medical Sciences (AIIMS) by the Union Minister of State for Health Anupriya Patel for people seeking help and advice on childhood neurodevelopmental disorders.
The toll-free helpline 1800-11-7776 is a teleconsultation service, which will be managed by four trained nurse counsellors and they will work under the supervision of resident doctors and faculty of the pediatric department. AIIMS will also provide teleconsultation services on the same number for those aged between 1 month and 18 years.
"Any parent or caregiver of a child with any neurological problem can obtain free information or guidance by calling up the National Child Neurology helpline," professor of Pediatric Neurology Sheffali Gulati said.
She said, "More than half of the patients seeking pediatric consultations have neurodevelopmental disorders. The interplay of multiple social and demographic factors in the developing world adversely influence childhood neurodevelopment."
"This may get translated into the impaired long-term neurocognitive outcome, significant losses to the workforce and impeded national development. These morbidities often get ignored as public health priorities because of lack of indigenous evidence," Gulati said.
The objective of staring the helpline and teleconsultation service is to answer the queries of parents and care providers of all infants, children and adolescents aged one to 18 years and also to make a digital registry of the queries put forth by the parents and the answers provided to them.
Patel said, "With an improvement in survival of sick newborns and reduction in under five child mortality rate, there is a paradigm shift from improved survival to looking at the neurodevelopmental challenges in these children.
"As most of these disorders last a lifespan, the helpline and teleconsultation service will help in improving the quality of life of families with such children," she said.
0 comment(s) on Available on CALL: AIIMS Doctors to now give Telephonic Consultation