Ayurveda Doctor Booked for Raping, Blackmailing 30 Women Patients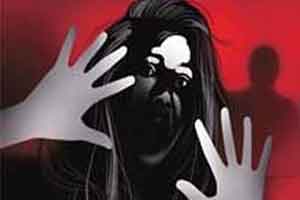 Vadodara: For sexually abusing over 30 women patients in his clinic, an ayurvedic doctor practicing in Angadh village has been booked along with his partner in crime; his compounder, after a woman lodged a police complaint alleging rape and blackmail by the duo.
At least 25 videos of the doctor getting intimate with multiple women, said to be his patients, went viral on social media recently.
An ayurvedic practitioner, who used to practice allopathy, has been booked on the charge of raping a woman patient in his clinic near Vadodara in Gujarat by sedating her under the pretext of treatment, police confirmed to PTI. The alleged incident took place around two months ago.
According to DNA, The accused have been identified as one Dr Pratik Joshi and Dilip Gohil. While the doctor went underground, his compounder has been arrested, a police official confirmed.
According to the woman's complaint filed with the Nandesari police, Dr Joshi and Gohil had been blackmailing her since she visited the doctor's clinic a year ago for treatment. The woman alleged that the doctor gave her a medicine after consuming which she fainted. Dr Joshi then raped her in his clinic, while Gohil recorded the crime.
Three days later, the woman again went to Joshi's clinic. Gohil then showed her the video in which Joshi is seen raping her. He threatened her that whenever Joshi will call her, she will have to come to the clinic otherwise he will circulate the video. He also told the woman that Joshi will also give her money, reports TOI.
She alleged that she was blackmailed several times by the doctor and his assistant forced her into sex nine times. When she learned about the circulation of those videos through newspapers, she immediately approached the police.
Another TOI report added the Nandesari police picked up Gohil for interrogation, during which he admitted that Dr Joshi offered his services for free to women patients in return for sex.
Joshi and Gohil trapped women by recording the act and used it for repeated sexual assaults. This had been going on for the past one and half years.
He also confessed that he had sent the videos to four of his friends. These four later widely circulated the videos among the residents of the village. As per TOI, Investigations revealed that the four blackmailed Dr Joshi extorted Rs 5 lakh from him saying they would circulate the videos to defame him if he didn't pay up.
Another revelation in the case was that Gohil also started to blackmail Dr Joshi using the video and even extorted Rs 50,000 from him.
According to a police official, more such cases may come to light against the practitioner. Police have registered an FIR against the practitioner under various sections of the IPC including 376 (punishment for rape) and 328 (Causing hurt by means of poison, etc., with intent to commit an offence). Police have formed various teams to trace the doctor.
Read Also: Muzaffarnagar: Two Doctors arrested for Sexually Assaulting Patients