AYUSH Practitioners should not be called Doctors, but Vaidya, Vaidyaraj, Hakim etc: Parliamentary Committee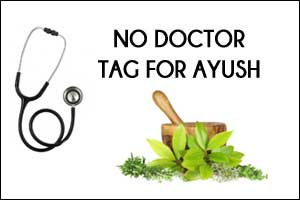 New Delhi: While the much-debated National Medical Commission to replace the existing Medical Council of India was tabled in the parliament in the month of December 2017 and then sent to committee for review on the basis of objections raised by the medical community, another report was simultaneously tabled before the Lok Sabha which issued a number of recommendations on the Medical Education and Health Care in the Country
In the Month of December 2017, Dr. Murli Manohar Joshi, M.P. and Chairperson, Committee on Estimates (2017-18) presented to the Lok Sabha, the Twenty-third Report of the Committee on Estimates (Sixteenth Lok Sabha) on the Subject '
Medical Education and Health Care in the Countr
y' pertaining to the Ministry of Health and Family Welfare (Department of Health and Family Welfare).
Many recommendations were cited by the committee, with one important one being on the
Differentiated nomenclature for AYUSH practitioners. 
The committee has stressed that it is absolutely necessary that AYUSH practitioners do not use the title of "
doctor
" which is synonymous with modern allopathic systems, but rather use the appropriate titles such as Vaidya, Vaidyaraj, Hakim etc
Taking note of the fact that in general practice the practitioners of traditional systems of medicine under AYUSH use the title 'Doctor' instead of using traditional yet most appropriate titles prescribed for practice of Ayurveda, Siddha, Unani, the Committee have emphasized that it is absolutely necessary that practitioners of Ayurveda, Siddha, Unani, etc. use the appropriate titles of Vaidya, Vaidyaraj, Vaidya Kaviraj, Vaidya Shiromani, Ayurvedacharya, Piyushpani, Hakim instead of using title 'doctor' as the latter is synonymous with modern Allopathic medicine; and recommended coordination among the Ministries of Health and Family Welfare,  AYUSH, Medical Council of India and Central Council of Indian Medicine to work upon the idea of using differentiated nomenclature for practitioners of Indian Systems of Medicine viz. Ayurveda, Siddha, Unani, etc.
Estimates Committee
is a Parliamentary Committee in India consisting of 30 members, elected every year by the lower chamber of the Parliament - Lok Sabha - from amongst its Members, to examine the budget estimates of the Union Government.
The Estimates committee  has powers to  examine the Budget Estimates and  (a) to report what economies, improvements in organisation, efficiency or administrative reform, consistent with the policy underlying the estimates, may be effected; (b) to suggest alternative policies in order to bring about efficiency and economy in administration; (c) to examine whether the money is well laid out within the limits of the policy implied in the estimates; and (d) to suggest the form in which the estimates shall be presented to Parliament.