Balbir Sidhu releases Health Days calender-2020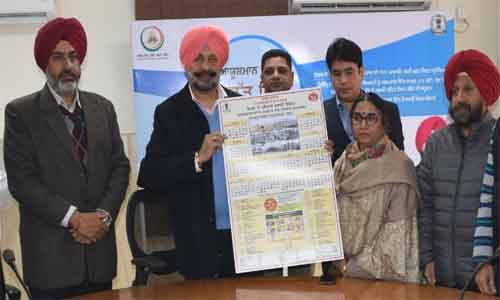 Chandigarh/SAS Nagar: Punjab Health and Family Welfare Minister Balbir Singh Sidhu on Tuesday released a Health Days calendar of the year 2020.
Mr Sidhu said that all-important health days, week, fortnight and month have been detailed in the calendar, which is being released for the first time by the department.
He instructed the health officials to make sure that these days are observed and special awareness drives are undertaken on the dedicated Health Days.
The calendar contains information about 64 International/National/State health days observed in Punjab, four health weeks, two health fortnight, three health months and in addition the gazetted Punjab government holidays. The objective behind this initiative is to make people aware about health issues.
Read also:
Punjab appoints 519 Community Health Officers to strengthen rural healthcare
He reviewed the functioning of the health department. He told that under the Ayushman Bharat Sarbat Sehat Bima Yojna, about 40 lakh people have already been issued e-cards in Punjab and more than one lakh people have availed benefits of the scheme and Rs 101 crore has been spent on their treatment till now.
Read also :
Punjab: Health Minister Sidhu stresses on safe disposal of Bio medical waste as per rules