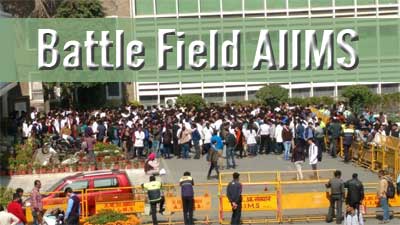 New Delhi:  Its battlefield at AIIMS, with both the Resident Doctors Association as well as the AIIMS Nurses Union Standing in opposition to each other. It is reported that RDA went on a strike today morning after the AIIMS authorities failed to revoke the suspension of 5 doctors that was ordered following the death of a nurse at the hospital
Medical Dialogues team earlier reported that following the death of their colleague, Over 500 nurses of the All India Institute of Medical Sciences (AIIMS) went on strike on Sunday, alleging medical negligence on the part of the doctors, and demanding immediate action from the authorities. With the nurses on strike, AIIMS authorities ordered immediate suspension of 5 doctors including 3 SRs and 2 JRs
Read also: AIIMS in Chaos: Nurses on strike, Doctors Suspended, RDA threatening strike
Opposing the authorities action, Resident Doctors Association (RDA) of AIIMS threatened to go on strike, yesterday. A meeting with the administration, Nursing union representatives and the RDA AIIMS was held in the Director's committee room in February 6,2017  at 4:30 pm, following which  the RDA AIIMS announced that a consensual decision was taken that the suspension orders against the five resident doctors will be revoked with immediate effect.
However, the consensus was not duly accepted by the nurses, whose union wrote to the Director Stating, " We reject the proposal to revoke the suspension of five resident doctors in the meeting called by the Director, AIIMS and hereby intimate you that if any such order is released, then we will be forced to take the extreme step."
The AIIMS authorities were then seemed confirming that "no decision has been taken regarding the suspension of the resident doctors" and that the "situation remains status quo". Dr Amit Gupta, spokesperson, AIIMS, told Indian Express "The AIIMS administration today had a long discussion with both the nurses' union as well as the RDA… The administration has taken this incident very seriously… After a long discussion, the administration has constituted an eight-member enquiry committee… However, no decision has been taken regarding the suspension of the resident doctors."
With no revocation of the suspension, RDA AIIMS has called out an indefinite strike since morning. Thousands of resident doctors of AIIMS are now sitting outside the gates, refusing to go inside to work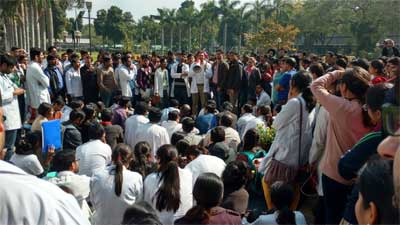 "As mentioned in the letter submitted by the RDA AIIMS yesterday, in the current scenario, we are left with no alternative but to with hold all outdoor and indoor patient care services with immediate effect.We also notify that if no rightful action taken in the next 24 hours, we will be forced to shut own emergency and critical care services as well, w.e.f. 8.00 am, February 8, 2017.We demand immediate revocation of suspension orders and a written apology for defining and harassing the involved residents." said Dr Vijay Gurjar, President RDA AIIMS.
"Patient care has and continues to remain the guiding spirit of residents. But doctors cannot function under a constant threat of such possible knee jerk reactions." he added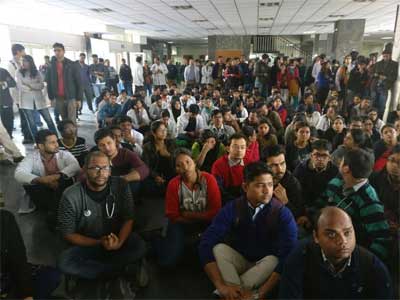 3 comment(s) on Battlefield AIIMS: AIIMS resident doctors on Strike