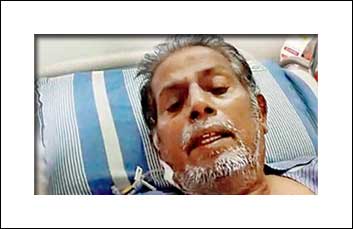 Pune : Battling pancreatic cancer since March, and  simultaneously breaking under the financial burden of the disease, a medical officer with State Health Department, recently released a video requesting euthanasia.
Dr Bharat Maruti Lote is medical officer working for government of Maharashtra, India for the past 27 years. He had been dedicated to his work and service of the patients, till March 2017, when he was diagnosed pancreatic cancer (neuroendocrine tumor). Since then he has undegone three major surgeries. While the doctor has been battling the disease, the family has been battling to raise enough funds to continue with the treatment. It is reported that the doctor's family has spent Rs 30 lakh till now, borrowing money from friends and supporters, and also mortgaging their house and family jewels. Speaking to Midday, his wife informed that she has been requesting the state health department to release his salary in advance, but there has been no response.
While the family is still making efforts to raise money through crowdfunding, the doctor asked for the release of a video, putting forward his own request-  pleading for death. In the video, that highlights his family's weak financial status and the health department's alleged apathy towards his plight, the doctor cites euthanasia as an end to his troubles.
"The government is not helping us out. He devoted his whole life to serving the poor in a small village. He was even awarded two state honours — the Na Dho Karve Award and the Ahilya Joshi Award. This is how we are being repaid," his wife Sangita told Midday. The family is now going to approach the high court, with a petition on euthanasia.
While Euthanasia or Mercy Killing not allowed in the country. Currently there is a complete ban on active euthanasia. Last year, a bill for passive euthanasia that is withdrawing medical support from a terminally-ill patient was proposed by the central government, however, it has not seen any progress since then . In rare circumstances, though, the government may allow passive euthanasia on humanitarian grounds.
Please also check out the crowdfunding site, in order to help the doctor and his family with his financial burden
https://www.ketto.org/fundraiser/DrBharatLote
2 comment(s) on Battling Cancer, Pune Doctor releases video asking for euthanasia