Be committed, specialised and above all accessible to patients: J&K Guv advises to doctors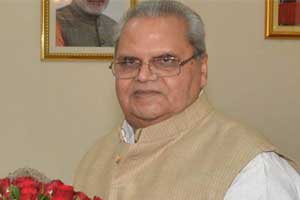 Jammu:  Asserting that the doctor's fraternity must treat patients as a part of their families, Jammu and Kashmir Governor Satya Pal Malik on Friday advised the fraternity to remain committed, specialised in their field and most important to remain accessible to the patients.
Congratulating newly recruited doctors, teaching faculty, nurses and other members of the state health department at a function of National Health Mission here, Mr Malik said that doctors must honestly perform their duties adding, "any society is not identified by the buildings and the complexes but by the people living there."
"For patients and attendants, doctors are like God and sometimes they do miracles," said the Governor and added that some pains cannot be felt unless one passes from it.
He, however, also termed nursing fraternity as 'goddesses' asserting that before consulting specialised doctors, nurses first provide treatment or the medicines to the patients.
The Governor advised doctors to be committed, have expertise in their fields and above all accessible to patients.
Mr Malik also regretted that the measles-rubella vaccination campaign was conducted successfully in all the regions of the state but the Kashmir media did not highlight it the way it should have been.
"Had single death taken place in a hospital, such matters are flared up by the media in Kashmir but unfortunately, positive happenings and achievements are missing," he said.
He also added that the science in present world has achieved a lot as earlier people used to die of small diseases like diarrhoea as there was no concept of vaccinations, adding, "now people visit hospitals to get rid of their diseases."
Quoting an example about his health issues that he was operated a year back and he consulted top politicians and union ministers before undergoing surgery, many professional doctors were suggested to him but he still preferred the doctor he knew about.
"The most important is the accessibility of a doctor. I still whenever approach my doctor, he is just a call away," said the Governor.
Mr Malik further said that the Kashmir is demonised in Delhi and portrayed wrongly and added, "Panchayat Polls and urban Local Bodies polls were held successfully but Kashmir media did not project the right picture."
Kashmir football team performed excellently but it was not mentioned anywhere in the media, he said adding that had any incident or mis-happening have occurred, it had been misused and flared up by the media.
The Governor, however, congratulated the health department for accomplishing the vaccination task in three months period despite all odds and asked them to be sincere, honest and professional in their approach.