Bengal Govt to appoint 10,000 nurses as CHOs in district health centres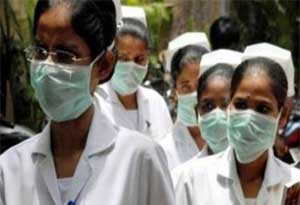 Kolkata: The West Bengal Government has decided to recruit 10,000 nurses who would be imparted special training on how to treat patients during an emergency.
According to sources in the state Health department, as many as 10,000 nurses will soon be recruited as "Community Health Officer" (CHO) in the district and sub-divisional hospitals and also health centres in districts.
The recruitment would be done through various phases on a priority basis.
These CHOs would mostly be sent to villages to develop a better health infrastructure in the rural hospitals.
West Bengal Health Recruitment Board will recruit these nurses after getting a final clearance from the Chief Minister.