Bengaluru: Renowned Nephrologist's name stolen to run Kidney Racket Scam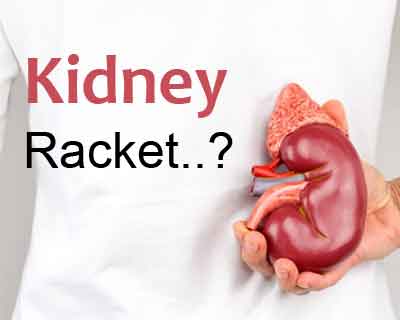 Bengaluru: Raising an alarm for the medical fraternity across the state, a well-known nephrologist has found himself a victim of a  major scam of kidney racket. To the utter surprise of the renowned doctor, his name was found being used by scamsters in order to run their kidney racket in the state
The organized racket has also got the hospital authorities at unease, as it is using the identities of established doctors from the hospital's website to accord authenticity to the act endangering patient lives and also duping them.
The scam surfaced in the media following the circulation of a WhatsApp message offering to buy a kidney and fraudulently identifying the renowned nephrologist from Manipal Hospitals, l HAL Airport Road, as a "kidney buyer."
As reported by a recent media account, the victim doctor, Dr S Sundar, was shocked after he was alerted by a person, who received the WhatsApp message and was forwarded a screenshot of it. The message allegedly contained the doctor's profile picture taken from the hospital's website, and a phone number which carried the name on the caller identifying app, Truecaller as that of 'Dr Sankaran Sundar Kidney Buyer'.
When TOI tried contacting the number, the person, who picked up the phone, identified himself as Dr Sundar from New Delhi. When asked if kidneys were available for a needy patient, he said, "I only buy kidneys and don't sell. Do you want to sell your kidney," the man asked before hanging up.
While having a conversation with daily on the impostor, Dr Sundar, who is presently in Kenya and overwhelmed by the whole situation, informed daily that he would personally complain to cybercrime police once comes back to Bengaluru.
"It is disheartening to see such a thing happening at the fag-end of my career. It is also a sign of desperation. Once I am back to Bengaluru, I plan to sue for compensation for trying to sully my name. I will go by the advice of our legal team at Manipal Hospitals," he added.
Meanwhile, the authorities at Manipal Hospitals described the message as a hoax and informed that they have planned to lodge a complaint with cyber crime police.
"It appears to be a major fraud. Dr Sundar's name is being misused. Our legal team has initiated action and a complaint will be filed with cybercrime police. We must educate and caution the public to be wary of such unethical persons spreading false messages," Dr H Sudarshan Ballal, Chairman, Manipal Hospitals informed the daily.
Read Also: Doctor booked, Hospital sealed on Accusations of Stealing Kidney