Beware of Dengue Haemorrhagic Fever this season: Doctors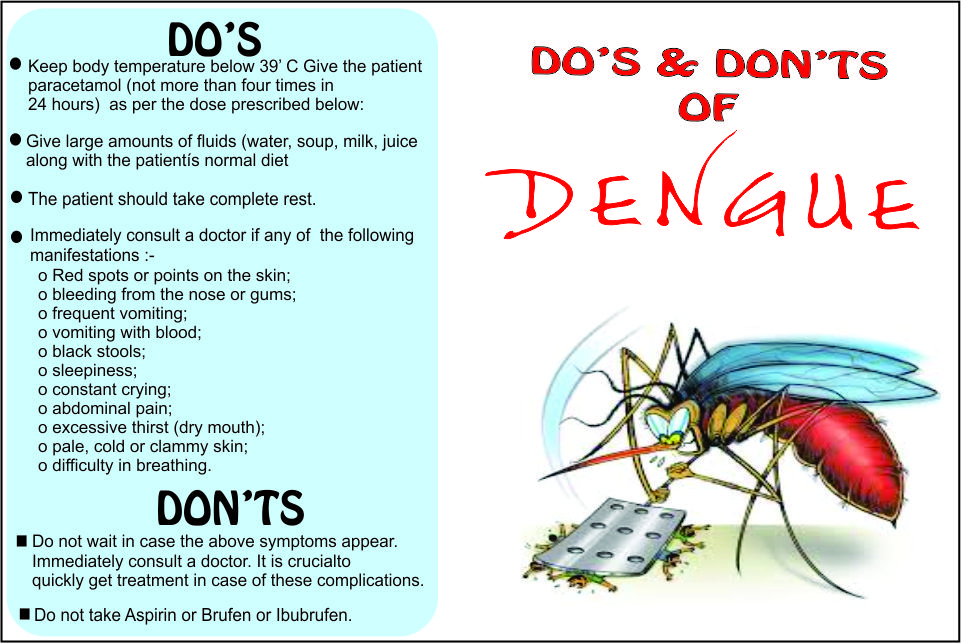 National Medical Forum and Sanjeevan Medical Research Centre, with its Three Decades of Excellence in Critcal care organized a teaching seminar on preparedness and Management of Dengue to teach to local practitioners and GPs across central Delhi on how to treat dengue as well as prevention protocol to be passed on to the general public.

Speaking on the Occasion was Prof. Dr Suresh Patel, Medical Department, Maualana Azad Medical College, who pointed out the dangers of Dengue Haemorrhagic Fever (DHF)
as well as Dengue Shock syndrome where Shock occurs after 2 to 6 days with sudden collapse, cool clammy extremities, weak thready pulse, and blueness around the mouth). There is bleeding with easy bruising, blood spots in the skin (petechiae), spitting up blood (hematemesis), blood in the stool (melena), bleeding gums and nosebleeds (epistaxis). Pneumonia and heart inflammation may be present. Dengue shock syndrome is the leading cause of dengue deaths in the country.

Dr Prem Aggarwal, President, National Medical Forum and Senior Physician and Cardiologist at Sanjeevan Hospital said that those who are having fresh infection in the background of previous exposure of another dengue virus as particularly high at particularly high at risk of Dengue Haemorrhagic Fever (DHF) and Dengue Shock Syndrome (DSS). The previous dengue infection, may have gone unnoticed but sensitizes the body and when the new infection takes place it is extremely severe.

"The shock syndrome is common in children less than 12 years, more common in females, and those who have previouslygotdengue. Itcanbeeasilydetectedbyputtingthebloodpressurecuffonthearmandinflateitfor2- 5 minutes. The patient with haemorrhagic signs will show bleeding spots."

The key control to both dengue fever and the dangerous complications of DHF and DSS is a control of breeding the mosquito of Aedesaegypti

Vaccine for dengue fever is in late stage of development but yet not found to be useful in reducing the transmission and the control of the epidemic.

The seminar was inaugurated by Shri Asim Ahmad Khan, attended the function and interacted with the practicing doctors and showed high degree of commitment for the prevention of dengue.


The doctors also provided some guidelines for management of dengue patients
DO'S AND DON'TS FOR DOCTORS
WHAT TO DO:


Cases of Dengue fever/Dengue Haemorrhagic Fever (DF/DHF) should be observed every hour.


Serial platelet and haematocrit determinations, drop in platelets and rise in haematocrits areessential for early diagnosis of DHF.


Timely intravenous therapy ñ isotonic crystalloid solution can prevent shock and/or lessen itsseverity.


If the patientís condition becomes worse despite giving 20ml/kg/hr for one hour, replace crystalloidsolution with colloid solution such as Dextran or plasma. As soon as improvement occurs, replace

with crystalloid.


If improvement occurs, reduce the speed from 20 ml to 10 ml, then to 6 ml, and finally to 3 ml/kg.


If haematocrit falls, give blood transfusion 10 ml/kg and then give crystalloid IV fluids at the rate of10ml/kg/hr.


In case of severe bleeding, give fresh blood transfusion about 20 ml/kg for two hours. Then givecrystalloid at 10 ml/kg/hr for a short time (30-60 minutes) and later reduce the speed.


In case of shock, give oxygen.


For correction of acidosis (sign: deep breathing), use sodium bicarbonate.


WHAT NOT TO DO:








Do not give Aspirin or Brufen for treatment of fever.


Avoid giving intravenous therapy before there is evidence of haemorrhage and bleeding.


Avoid giving blood transfusion unless indicated, reduction in haematocrit or severe bleeding.


Avoid giving steroids. They do not show any benefit.


Do not use antibiotics.


Do not change the speed of fluid rapidly, i.e., avoid rapidly increasing or rapidly slowing thespeed of fluids.


Insertion of nasogastric tube to determine concealed bleeding or to stop bleeding (by coldlavage) is not recommended since it is hazardouss

SIGNS OF RECOVERY:










Stable pulse, blood pressure and breathing rate


Normal temperature


No evidence of external or internal bleeding


Return of appetite


No vomiting


Good urine output


Stable haematocrit


Convalescent confluent petechiae rashCRITERIA FOR DISCHARGING PATIENTS:





Absence of fever for at least 24 hours without the use of anti-fever therapy


Return of appetite


Visible clinical improvement


Good urine output


Minimum of three days after recovery from shock


No respiratory distress from pleural effusion and no ascites


Platelet count of more than 50,000/mm3



** Guidelines sourced from National rural health mission guidelines