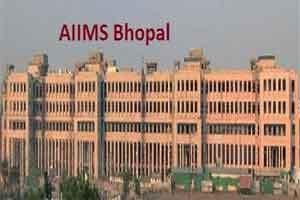 Bhopal: Sanjay Singh Chauhan, the Administrative Officer of AIIMS has been relieved of his duties after completing five-years of his tenure.
He is reported to be on deputation from Union Ministry of Urban Development, and is also credited with exceptional work done for transforming the institute from the beginning. Chauhan has addition duties of drawing and disbursing officer (DDO).
Sources have further confirmed that a note from the PMO led to the order.
AIIMS Bhopal superintending engineer Hitesh Kejriwal has now taken over the charge of DDO, while the post of AO has been relinquished. Sources said PMSSY official Vishal Gupta is likely to succeed Chauhan.
Chauhan's tenure is also highlighted by the fact that he was not on best terms with former AIIMS Bhopal deputy director Rituraj Singh.
TOI reported that PMSSY is also looking at replacement of controversial AIIMS Bhopal financial advisor Rajesh Nigam. The post of FA has been advertised. Appointment of Nigam was without nod from UPSC and his last salary statement as a state government official is also under the scanner. CAG has also objected to it.
Acting AIIMS Bhopal director and AIIMS Raipur director Dr Nitin Nagarkar is likely to visit the institute on Friday.
0 comment(s) on Bhopal: Administrative Officer of AIIMS relieved off duties