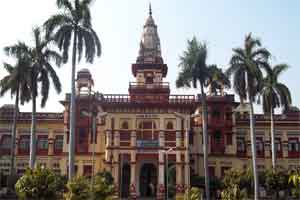 Uttar Pradesh: Six students have been expelled by the Banaras Hindu University (BHU) administration for alleged criminal acts and offence. One students is also reported to be suspended.
As noted by the BHU administration the students have been "repeatedly committing acts that were criminal and disruptive" and therefore, a ban has been imposed on their entry on campus.
As noted by the administration, these students were found guilty of active involvement in staging dharna outside the CT Scan Centre of the Sir Sunder Lal Hospital, as a result of which the patients had to face serious difficulties. The teaching and learning activities at Institute of Medical Sciences was also adversely affected.
As reported by Express, those expelled from the university include Shashi Shekhar of MA (Hindi), Shashank Singh of LLB (honours), Vaibhav Tiwari of MA in Conflict Management, Mrityunjay Tiwari of MA (Hindi), Bhanu Pratap Singh of MA in Integrated Rural Development and Management and Abhishek Kumar Singh of BA (Honours) in Statistics. Pawan Kumar of MA in Social Science has been suspended. According to BHU authorities, those expelled today had been "repeatedly committing acts that were criminal and disruptive to the environment conducive for the pursuit of knowledge and harmonious relationship between the students belonging to different faculties".
University spokesperson Rajesh Singh has further implied that these students in their act of criminal indulgence had locked the entrance to 64 Slice CT Scan Centre of the hospital on March 3. Their demand through the staged dharna was that the BHU should take over the unit and should run it on no profit, no loss basis and not on Public-Private Partnership (PPP) model.
However, their suspension has been revoked after they gave assurance that they will get involved in so such activity in future.
0 comment(s) on BHU expels six students for disrupting Medical Property