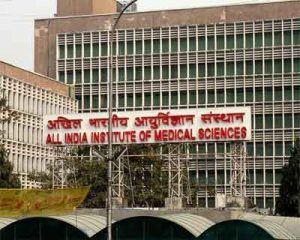 Patna:  A former director of All India Institute of Medical Sciences (AIIMS), Patna, Dr Girish Kumar Singh, was arrested from the institutes guest house in a case alleged manhandling of a former senior resident doctor of the institute while he was on duty. Singh was released after few hours on personal bond that he will appear before the court on Tuesday.
Dr Ajay Chaudhary, a former senior resident doctor with the institute, in his complaint with the SC/ST police station alleged the senior doctor of harassing, abusing and thrashing him.
IG (Weaker Section) confirmed the complaint to TOI, "In his FIR, Dr Chaudhary had alleged that after he was terminated from services and replaced by a junior doctor, he challenged the decision and an altercation broke out in Dr Singh's chamber on October 15, following which he was abused and thrashed by Dr Singh.".
Doctor Singh, who is now the HOD of orthopaedics department within King George's Medical University, Lucknow was in town for attending his farewell, when he was taken by the police. He cried foul blaming the police of arresting him despite him having a court order of ADJ, Patna, Akhilanand Dubey, dated, November 3 which bared the police of doing so.
In this connection, IG (weaker section) Anil Kishore Yadav however stated that the police has not received any such papers from the court in favor of Dr. Singh. "Dr Singh also failed to produce the copy of the court order at the time of his arrest," he added
He further added that the supervising, CID DIG, Vinod Kumar Chaudhary, while looking into the case found the charges true and later arrested the doctor.
Dr. Singh has however clearly stated that the allegations against him are not true,"Dr Chaudhary lodged the FIR against me after I refused to give him an extension," he told TOI.
0 comment(s) on Bihar: Former AIIMS-Patna director arrested, released on personal bond hours later