Bio-Medical Waste Management: States to pay Fine of Rs 1 crore per month if Hospitals found violating rules, says NGT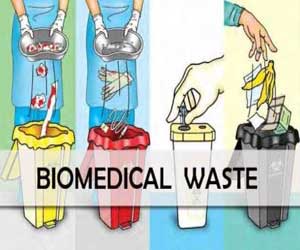 New Delhi: In a stringent view of unscientific disposal of bio-medical waste and its impact on public health, the National Green Tribunal (NGT) has directed all States and Union Territories to observe the bio-medical waste management or pay a fat sum of Rs 1 crore every month till the non-compliance lingers in their region.
This comes following a report submitted by the Central Pollution Control Board (CPCB) that proposed the formula for calculation of Environmental Compensation for HCFs-
Environmental Compensation for HCFs = HR x T x S x R x N
Where;
HR –Health Risk factor
T- Type of Healthcare Facility
S – Size of Health Care Facility
R – Environmental Compensation factor
N – Number of days of Violation
HR Health Risk (HR) is a number from 0 to 100 and increasing HR value denotes the increasing degree of health risk due to improper handling of BMW in a healthcare facility.
CPCB report further added, "In any case minimum Environmental Compensation in respect to Healthcare Facility shall not be less than Rs.1200/- per day."
Prior to this, small clinics were under scanner and one such clinc in the capital had to pay a fine of Rs 14 lakh for violating the said rules. Medical Dialogues had earlier reported that in a major penalty, the Delhi Pollution Control Committee (DPCC) had directed a small dental clinic situated in the south Delhi area to pay a penalty of Rs 14.30 Lakh on account of operating without obtaining/ applying for mandatory Authorization under Bio-Medical Waste Management Rules. 2016
Also Read: Delhi: Whopping Rs 14 lakh Fine on SMALL CLINIC for Violating Biomedical waste rules
In recent row, a petition was filed by Shailesh Singh against Sheela Hospital & Trauma Centre, Shahjahanpur &Ors.; Kailash Hospital and Heart Institute&Ors; Shri Ganga Charan Hospital (P) Ltd., Bareilly &Ors. ; Katiyar Nursing Home, Hardoi&Ors, seeking shut down o thesef healthcare establishments involved in the improper disposal of bio-medical waste in violation of Bio-Medical Waste Management Rules, 2016.
A bench headed by NGT Chairperson Justice A K Goel noted that unscientific disposal of bio-medical waste had a potential of serious diseases including Genital infection, Skin infection, Anthrax, Meningitis, AIDS, Haemorrhagic fevers, Septicaemia, Viral Hepatitis type A, Viral Hepatitis type B and C, etc.
The Tribunal further noted that NGT had required the State of Uttar Pradesh to furnish performance guarantee in the sum of Rs. 10 Crores. However, the tribunal was informed that the said direction was stayed by the Supreme Court.
The Tribunal noted that the steps taken in the State of Uttar Pradesh for compliance of the BMW Rules were inadequate and not a single person was shown to have been convicted in spite of large violation, nor any compensation was shown to have been recovered. No scale of compensation had been laid down, nor an action plan had been prepared.
The unsatisfactory state of affairs was not confined to the State of Uttar Pradesh, Punjab, Haryana and Uttarakhand who were before the Tribunal but also to the other States.
The BMW Rules provide for the furnishing of annual reports by the States to the CPCB and by the CPCB to the Ministry of Environment, Forest and Climate Change and also being made available on the website of the concerned State.
The Tribunal directed all the States and UTs to furnish such reports, failing which the defaulting States will be required to pay compensation at the rate of Rs. 1 Crore per month after 01.05.2019. The States were also required to prepare their respective action plans within one month.
The Tribunal also directed the CPCB to furnish its comments on the action plans and to undertake study and prepare a scale of compensation to be recovered from the violators of BMW Rules without prejudice to the State PCBs taking steps for recovery of compensation from the polluters or laying down their own scales which should not be less than the scale of the CPCB.
Accordingly, a report has been filed by the CPCB wherein it recommended Environmental Compensation for Healthcare Facilities.
With no meaningful objection being raised by any of the parties, the report of the CPCB has been accepted by the tribunal.
Subsequently, the tribunal in its order stated,



"We place on record our disapproval of the inaction of States in furnishing the inventory studies as well as for incomplete inventories. It is regretful to note that 25% of identified HCFs have not even taken authorization from the concerned State PCBs in absence of which, monitoring of waste management is not taking place. The States which have not set up common treatment and disposal facility must do so within two months as per Rules."




"It is made clear that if even after two months the States/UTs are found to be non-compliant, the compensation will be liable to be recovered from the said States/UTs at the rate of Rs. 1 Crore per month till the non-compliance continues," t