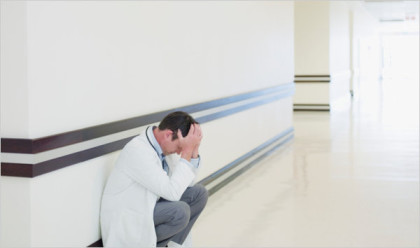 Ahmedabad: A post-graduate student of a medical college here today tried to end his life, police have informed. As per the police sources, the resident doctor took the extreme step since he felt that he was being discriminated at workplace due to his caste
Dr M Mariraj, who hails from Tamil Nadu, is a third year student of the Master of Surgery (MS) course at the government-run B J Medical College here. He took a bunch of sleeping tablets after having a verbal spat with seniors/colleagues in the operation theatre.Some reports said he was upset because he was not allowed to conduct surgeries by his teachers who discriminated against him as he is a Dalit.
"It is true that Mariraj is a Dalit. He tried to end his life by consuming sleeping pills at his hostel room. He is now out of danger. As he hasnt yet given a statement, it is not clear what prompted him to take such a step," said inspector A K Patel of Shahibaug police station.
However, Civil Superintendent Dr M M Prabhakar of the civil hospital — to which the college is attached — refuted the reports.
"There is no truth to these rumours. There are various levels of surgeries, and Mariraj is still a student. It is up to teachers to decide whether a student can perform a particular surgery or not as a part of his course. No student can demand it (the right to conduct surgeries)," said Dr Prabhakar told PTI
"His Head of Department, Dr Gunvant Rathod himself is from a Scheduled Caste and after years in the medical field, the doctors won't resort to such pettiness and I don't think it is possible," the Medical Superintendent told Mirror
22 comment(s) on BJ Medical College: Resident Doctor tries to commit suicide on alleged discrimination