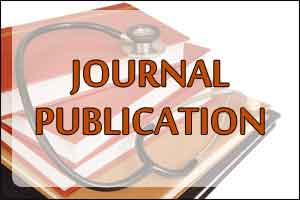 Over the past year, there has been a constant debate in various journals on the circular issued by the Medical Council of India (MCI) in September 2015, regarding the requirements for promotion of teaching faculty.
The lack of a time-bound promotion system of medical faculty results in higher stress, dissatisfaction, lower productivity and quality of life and work. The critics have highlighted several issues in the assessment of publication for teacher's promotion, e.g the exclusion of publications in "electronic-only" journals, awarding points only to "original research" papers and first or second authors, listing of indexing databases for journals, categorizing journals as national or international. The relevance of a journal's impact factor as a measure for assessment of publication has also been appraised overall quality of research papers published by academics in India and China, however, leaves much to be desired.
The system of open access journals came into vogue a decade ago with the legitimate objective of making scientific research accessible to academics in poor countries. It was felt that subscription-based journals such as Nature or The Lancet were unaffordable to academics and researchers in poor countries. Fraud is not new even the well-placed people, indulgence in fake research and possess fake PhD's for a substantial fee sub-standard non-peer-reviewed manuscript polluting scientific literature with trash. Forty-two per cent of world's fake journal publishers are based in India according to the editorial, vested interests in the predatory journal industry have spread their tentacles in each university – many of them are being managed by faculty members themselves
................................ Advertisement ................................
Lakhotia says that the UGC mandate for prospective and existing faculty members to 'produce' research papers were a misconceived idea as it ignored the fact that majority of colleges and universities in the country lack even the minimal infrastructure required for any kind of research.
................................ Advertisement ................................
Many Medical faculties are apprehensive that publishing the original work, fraught with many problems majority of the Private Medical colleges do not have required number of patients to train even the undergraduates, only fake patients are admitted during the MCI inspections, and Government colleges too face the problem even though there are number of patients and majority are poor and cannot afford any modern Investigations and no journal publishes the evaluations without modern diagnostic methods and majority of the patients are treated without evidence based methods. The certain truth is many reputed journals do not accept scientific papers without the utility of Molecular methods, and genomic evaluations. Majority of senior faculty enjoy the benefits created out of MCI regulation- hardly few come to college, regularly and many juniors are compelled to fake the mattress, and do whatever they like, to survive in the system.
*NEED A BETTER EVOLUTIONARY METHODS
AS SUGGESTED BY Shobhit Jain etal there is a need for more comprehensive assessment for teaching faculty in terms of teaching activities, clinical skills, research, mentoring and role-modeling; and social reputation and extracurricular qualities. Such assessment may be done by including teaching awards, student and peer feedback, number of publications and citations in indexed journals, grants awarded for projects, number of presentations at national and international meetings, invited papers, chair sessions, membership in organizing committees of meeting and conferences, and of Institute committees and professional associations, and participation in faculty exchange programmes, (Ref 2)
It is time that MCI should Assess what facilities exist in many Medical colleges, as majority of Research Laboratories is big hoax, it certainly encourages more fraud without establishing research facilities as UGC suggested.
TIME TO THINK IF EVERYBODY DOES RESEARCH AND PUBLISH TRASH AS SCIENTIFIC WORK -WHAT NEXT?
Ref
1 UGC rules blamed for helping promote fake journals in India. S. Jayaraman Nature India
*2 Indian Journal of Medical Ethics Letters Shobhit Jain etal Department of Psychiatry, Institute of Medical Sciences, Banaras Hindu University, Varanasi, UP INDIA http://www.asianjournalofpsychiatry.com/article/S1876-2018(17)30047-3/abstract
Dr.T.V.Rao MD
The Author is the former Professor and HOD, Department of Microbiology, Travancore Medical College
Meghna A Singhania is the founder and Editor-in-Chief at Medical Dialogues. An Economics graduate from Delhi University and a post graduate from London School of Economics and Political Science, her key research interest lies in health economics, and policy making in health and medical sector in the country.
She can be contacted at meghna@medicaldialogues.in.
Contact no. 011-43720751
Disclaimer: The views expressed in the above article are solely those of the author/agency in his/her private capacity and do not represent the views of Medical Dialogues.
................................ Advertisement ................................
12 comment(s) on Promotion Criteria for medical faculty- MCI to rethink on Publication criteria??