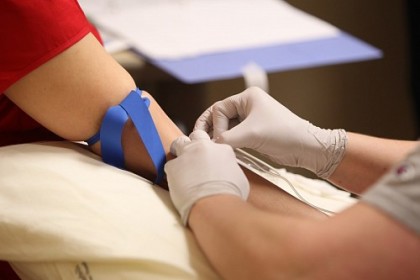 Antibiotics are often overprescribed and misused, leading to a global threat of antibiotic resistance. But in a new study, researchers say they're a step closer to developing a rapid blood test that distinguishes between viral and bacterial respiratory infections, which would mean more accurate antibiotic prescriptions.
Duke University researchers described in Science Translational Medicine a simple blood test that within an hour could alert a doctor whether antibiotics are truly necessary. The test, while still in the early development stages, measures an infected person's genetic reaction to a microbe.
"Considering the huge vacuum and the void in helping doctors make decisions about antibiotic use, just about any kind of test is an improvement over what's currently available," said Dr. Ephraim Tsalik, assistant professor of medicine at Duke University.
Currently, around 50 percent of antibiotic prescriptions for respiratory infections may be unnecessary, according to the American College of Physicians and the Centers for Disease Control and Prevention.
"Antibiotics treat bacteria, but they do not treat viruses," Tsalik said. "That's why distinguishing between these various causes of illnesses is very important to get the right treatment to the right patient, and to offer a prognosis for how the patient is likely to do."
The researchers analyzed the blood of more than 300 patients with respiratory infections to assess gene signatures, to identify whether a patient had a bacterial or viral infection. By measuring patients' gene expression profiles, the researchers found they could use the previously identified gene signatures to identify patients with flu, strep bacteria and other common infections with 87 percent accuracy.
The test currently takes up to 10 hours. The team said they are developing a 1-hour test that could be used by doctors. "We are working diligently to translate the signatures we found to make them available in an hour or less using a simple approach that can be done at the patient's bedside or in an office-based lab."
In an unprecedented bid to address antibiotic resistance, more than 80 pharma and biotech firms issued a declaration at the World Economic Forum in Davos, Switzerland, urging governments to support investment in developing medicines and diagnostic tools to combat antibiotic-resistant infections.
Drug-resistant infections are forecast to cause 10 million extra deaths each year and use up to $100 trillion in health care costs by 2050, according to a report released last year by the Review on Antimicrobial Resistance, commissioned by the U.K.
0 comment(s) on Blood Test May Predict If You Really Need Antibiotics