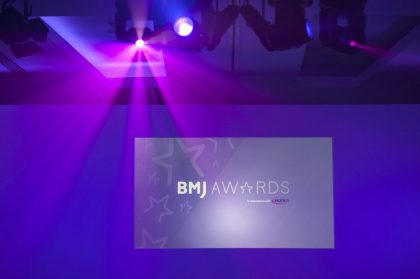 New Delhi: After the success of BMJ Awards South Asia in 2016, the fourth edition of the Awards is here again this year. The British Medical Journal (BMJ) India continues to honor its commitment of awarding candidates in healthcare quality, medical education, healthcare innovation and research and clinical excellence. This year too, BMJ invites nominations from the south Asian region in numerous categories. The nominations are being sought across the South Asia region, from India, Sri Lanka, Nepal, Bangladesh, Pakistan, Bhutan, Myanmar and Maldives. Nominations will be open from 1st June 2017 and can be filed on BMJ website (http://southasiaawards.bmj.com/) till 16 August 2017.
The award is given annually to healthcare professionals who demonstrate exceptional courage, commitment and devotion while performing their duty in the area of healthcare. The winners, as always, will receive recognition and appreciation from an eminent jury panel, South Asian media and other healthcare dignitaries.
Prashant Mishra, Managing Director, BMJ India, said "Every year, we wish to further raise the bar with BMJ Awards South Asia. In 2017, once again we wish to recognize exceptional work done in healthcare in South Asia. We invite doctors to submit their works of excellence and use this platform to showcase to the world how their efforts are transforming healthcare. We are confident that this year's Awards will showcase the most spectacular achievements of doctors in South Asia from remote and far flung corners and help them receive the felicitations that they truly deserve."
Last year's winners included teams from eminent institutions like All India Institute of Medical Sciences (AIIMS) New Delhi, National Institute of Mental Health & Neuro Sciences (NIMHANS) Bangalore, Jawaharlal Institute of Postgraduate Medical Education & Research (JIPMER) Pondicherry, Aravind Eye Centre, Pondicherry, and Amrita Institute of Medical Sciences, Kochi, among others.
On 18 November 2017 in New Delhi, the champions of South Asian healthcare would be announced, those that have demonstrated remarkable passion and commitment to medicine
0 comment(s) on BMJ India Announces BMJ Awards South Asia 2017