Breast Surgeon DR P Raghu Ram conferred Honorary Fellowship of Royal College of Surgeons Thailand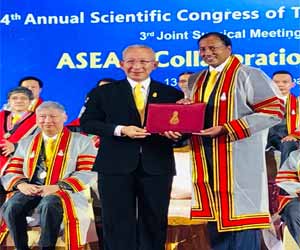 Dr P Raghu Ram, Padma Shri awardee & President-elect of the Association of Surgeons of India was on Saturday, 12 July 2019 conferred the prestigious Honorary Fellowship of The Royal College of Surgeons of Thailand – Honorary FRCS (Thailand).
This award is the highest recognition bestowed by the Royal College during the Convocation Ceremony at the 44th Annual Congress of the Royal College of Surgeons of Thailand being held in association with the Ministry of Public Health in Thailand this weekend in Pattaya.
This highest honour was conferred by Professor Tanaphon Maipang, the President of the Royal College of Surgeons of Thailand in recognition of Dr Raghu Ram's bold vision coupled with an intense body of work that has paved towards significantly improving the delivery of breast healthcare in India.
With an accomplished & distinguished academic track record and having already obtained FRCS all the four surgical Royal Colleges in the UK and Ireland, the conferment of FRCS (Thailand) makes Dr Raghu Ram achieve the very rare distinction to have been conferred FRCS from FIVE Surgical Royal Colleges (London, Edinburgh, Glasgow, Ireland & Thailand) in addition FACS from the American College of Surgeons.
Expressing his happiness on being conferred the prestigious Honorary FRCS (Thailand), he said "I am most humbled and grateful for being hand picked by The Royal College of Surgeons of Thailand for this very prestigious honour. I dedicate this award to my motherland, my family and my patients. Should I be given a opportunity, would be delighted to offer my services to the Ministry of Public Health in Thailand towards implementing the population based breast cancer screening  programme mirrored upon the large scale screening initiative implemented in Telangana and Andhra Pradesh."
Over 2000 delegates from all over Thailand and world renowned surgeons from 20 Countries were participating in this mega Scientific Congress at Ambassador Jomtien Hotel in Pattaya from 13 - 15 July 2019.
Whilst Dr Raghu Ram is the only invited expert from India, distinguished surgeons from USA, UK, Belgium, Germany, Netherlands, Australia, Hong Kong, China, Malaysia, Philippines, Singapore, Japan, Taiwan, Korea, Vietnam, Indonesia, Cambodia, Myanmar, Sri Lanka & Pakistan are  in attendance sharing their knowledge in one of the most well attended & widely represented International Congress.
Dr Raghu Ram delivered a key note address outlining South Asia's largest population based breast cancer screening programme that he championed under the auspices of Ushalakshmi Breast Cancer Foundation in partnership with the Governments of Telangana and Andhra Pradesh.
In a surgical career spanning 24 years since he qualified to become a Surgeon in 1995, Dr Raghu Ram has excelled in his chosen field. Establishing South Asia's first free standing purpose built Breast health Centre, creating awareness about the importance of early detection of breast cancer transforming it from a 'taboo' to a much commonly discussed issue.
The Government of India has recognized his yeomen service by conferring upon him one of the highest civilian awards of the land (Padma Shri in 2015) and Dr BC Roy National award in 2016.
Royal College of Surgeons of Thailand (RCST) is the central scientific and educational organization for surgery of all surgical specialties in Thailand. Founded in 1975, the Royal College in Thailand has grown to become a well recognized and respectful national & international surgical organization. The College has been granted the Royal Patronage by His Majesty the King since 7 April 1980.