Burjeel Hospital Wins Best 2017 UAE Emerging Medical Tourism Service Provider Award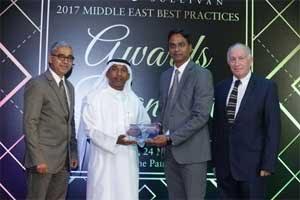 DUBAI:  Burjeel Hospital (A unit of VPS Healthcare) was named 2017 UAE Emerging Medical Tourism Service Provider of the Year- Hospital Category at the 2017 Frost & Sullivan Middle East Best Practices Awards Banquet held on 24th May at Atlantis, The Palm in Dubai.
Burjeel Hospital hospital  is an emerging medical tourism service provider in the UAE. It caters to the growing medical needs of the UAE and GCC by offering high quality care in all medical specialties. The top five specialties in Burjeel Hospital Abu Dhabi, for international patients, include obstetrics, gynecology, orthopedics, neonatology, general surgery and gastroenterology. It offers special packages for cesarean section, bariatric surgery and hip replacement. Established in 2012, the hospital is currently expanding its operational beds to accommodate the growing needs of the local and international populace.
"We are truly honored to be recognized in this category by Frost & Sullivan this year. The award underlines our commitment as an organization to provide the best healthcare in the region and significantly contribute in enhancing the area of medical tourism in the UAE," said Dr. Raja Gujju, Chief Operating Officer, Burjeel Hospital – Abu Dhabi.
Congratulating Burjeel Hospital Abu Dhabi on the award, Mr. Sandeep Sinha, Vice President, Transformational Health Practice, Frost & Sullivan said, "2016 has been a very successful year for Burjeel Hospital Abu Dhabi. The company's international patient department contributed 34 percent to the total revenue of the hospital with an inflow of more than 8,000 international patients. The hospital not only provides world-class tertiary healthcare in the region, it also enhances the patient's experience by managing their logistic needs, including visa and travel arrangements, hotel stays, dietary services, religious needs and airport transfer, thus delivering a stress-free experience. Its growth, unique services, marketing initiatives, technical advancements and the compassionate patient-centric approach are some of the key factors which have contributed to its leading position in the region."
Frost & Sullivan Awards recognize companies across regional and global markets for outstanding achievement and performance in a range of regional and global markets for superior leadership, technological innovation, customer service, strategic product development among others.
Frost & Sullivan's robust research methodology represents the analytical rigor of our research process. It offers a 360-degree-view of industry challenges, trends, and issues by integrating all 7 research methodologies. Too often, companies make important growth decisions based on a narrow understanding of their environment, leading to errors of both omission and commission. Successful growth strategies are founded on a thorough understanding of market, technical, economic, financial, customer, best practices, and demographic analyses. The integration of these research disciplines into the 360-degree research methodology provides an evaluation platform for benchmarking industry players and for identifying those performing at best-in-class levels.