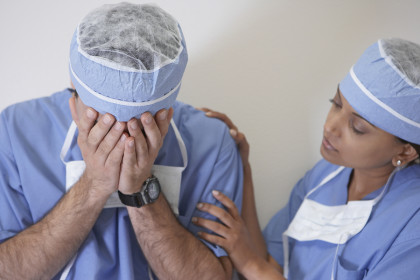 Medical students of Calcultta National medical college (CNMC) have accused their own institute of medical negligence for inappropriately treating a batch mate who had suffered a bike accident. He (the final year student Ritesh Jaiswal)has been reported dead after alleged negligence by the group of his own batch mates-who immediately reported to the hospital after he suffered injury after a bike skid accident the same night.
According to a narration given by the students, as reported in the Times of India, the final year student Ritesh Jaiswal at the time of reporting at the hospital might have suffered from internal blood loss. However, after reporting at the emergency ward of the CNMC there was no blood tests or basic tests conducted as a preliminary check up. It was advised by the PG trainee on duty to get the cut on his groin stitched in the OT. But to the students' utter dismay, they were not even able to find a stretcher to take Ritesh to the OT, which led to wastage of another 15 minutes in the process. All this while, he lay in his own pool of blood and in utter pain, as one student told the newspaper.
Later, his cuts were stitched, but no blood transfusion was still done. Also, a CT scan report was not conducted, even though students insisted as probably,  Ritesh was reported to be wearing a helmet at the time of the accident. The students were clearly shocked as there was no internal body examination undertaken by the doctors to pursue the matter.
................................ Advertisement ................................
Ritesh is reported to have died later at 8.00 am with only one external injury identified on his body due to the accident.
................................ Advertisement ................................
The hospital has started an investigation after the student's gheraoed principal Manjushree Ray's office on Tuesday, demanding a probe and punishment to the doctors involved in his treatment, as exactly confirmed in the TOI report.
Author Details
Meghna A Singhania is the founder and Editor-in-Chief at Medical Dialogues. An Economics graduate from Delhi University and a post graduate from London School of Economics and Political Science, her key research interest lies in health economics, and policy making in health and medical sector in the country.
She can be contacted at editorial@medicaldialogues.in.
Contact no. 011-43720751
................................ Advertisement ................................
0 comment(s) on Calcultta National medical college faces medical negligence allegation from own students