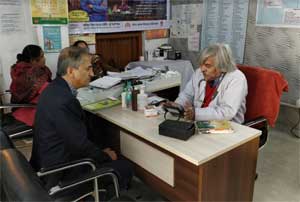 New Delhi: Eminent cardiac surgeon Devi Prasad Shetty visited a Delhi government-run Mohalla Clinic in Todapur area, the Aam Aadmi Party (AAP) said.
The party took to Twitter to share pictures of Shetty, founder and chairman of Narayana Health group, interacting with a doctor and other members at the clinic.
The Mohalla Clinic programme is one of the flagship projects of the Arvind Kejriwal-led AAP government in Delhi, and several personalities have visited the facilities in the past.
These clinics are neighbourhood health centres in Delhi, and offer a basic package of essential health services including medicines, diagnostics, and consultation at nominal rates.
"World famous Cardiac Surgeon Dr. Devi Prasad Shetty visited Aam Aadmi Mohalla Clinic, Todapur today. Dr Shetty was very happy to see the facilities available in Mohalla Clinic managed by Delhi government," the party tweeted.
The Delhi government has decided to set up at least one mohalla clinic in each rural village of the national capital, according to Chief Minister Arvind Kejriwal.
The AAP government has a target of setting up 1,000 mohalla clinics across the city.
So far, more than 160 mohalla clinics have been set up across the city.
1 comment(s) on Cardiac surgeon Devi Shetty visits Mohalla Clinic in New Delhi