Bullet from the past: An interesting case report of scar related VT.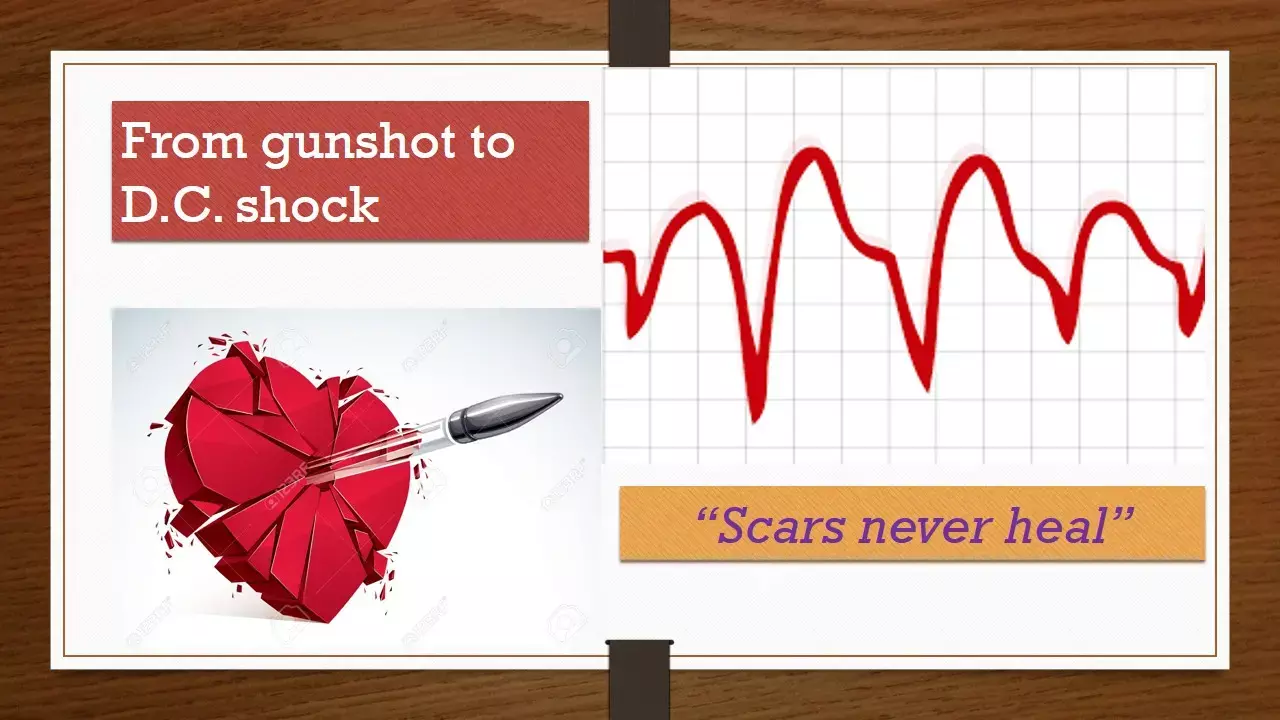 The majority of ventricular tachycardias (VTs) occurs in patients with structural heart disease and is associated with an increased risk of sudden cardiac death. These VT are scar-related and may develop in patients with ischaemic or non-ischaemic cardiomyopathies. In the latest issue of EHJ, Doldi et al describe a 44-year-old patient without any pre-existing cardiovascular disease, presenting with the first documentation of a VT and etiology was deciphered from a history of gunshot injury to the chest 28 years back.
The patient presented after the first occurrence and documentation of a haemodynamically unstable sustained fast VT with a cycle length of 250 ms which has to be cardioverted before admission to the hospital. The patient's history revealed no pre-existing cardiovascular disease, he was not taking any medications or drugs of abuse.
He only reported a suicide attempt with a self-made handgun aged 16 when he had shot himself in the thorax. At that time, he had undergone emergency cardiac surgery. The cardiac surgeons documented that a bullet had perforated the pericardium and touched on the anterolateral aspect of the left ventricle. The patient survived, underwent psychiatric therapy and has lived a healthy life thereafter.
After presenting with the VT coronary artery disease was excluded through cardiac catheterization. Though the timeline between the initial chest trauma and the occurrence of the VT was very long authors were unable to detect a precipitating factor that triggered the VT. A cardiovascular magnetic resonance study showed a localized myocardial scar in the left ventricular free wall starting from the subepicardium and correlating to the scar described 28 years ago by the thoracic surgeons.
In an electrophysiological study, non-sustained VT were easily inducible. In the presence of the fast haemodynamically relevant sustained VT, the patient's history with the CMR findings and the results of the electrophysiological study, all therapeutic alternatives mainly VT ablation with endo- and epicardial substrate mapping/ablation and/or implantable cardioverter-defibrillator (ICD) implantation were extensively discussed with the patient and his family, who decided on ICD implantation. Therefore, the patient underwent single-chamber ICD implantation as secondary prophylaxis.
Scar-related VT often occurs many years after an acute event, e.g. an acute myocardial infarction. The reason for the often very long time periods between an acute event and a subsequent VT remains unknown but slowing of conduction and the occurrence of critically timed extra beats play an important role.
The case nicely illustrates that any cardiac trauma even a superficial epicardial projectile with subsequent scarring may cause a VT after many years. "To our knowledge, this is the first report of a monomorphic scar-related VT due to penetrating mechanical damage to the myocardium by a gun shot", noted the authors.
Source: European Heart Journal Case Reports: Florian Doldi, Florian Reinke, Ali Yilmaz, Lars Eckardt, Bullet-associated ventricular tachycardia: a case report, European Heart Journal - Case Reports, Volume 5, Issue 4, April 2021, ytab101, https://doi.org/10.1093/ehjcr/ytab101