Guts in the heart- literally!!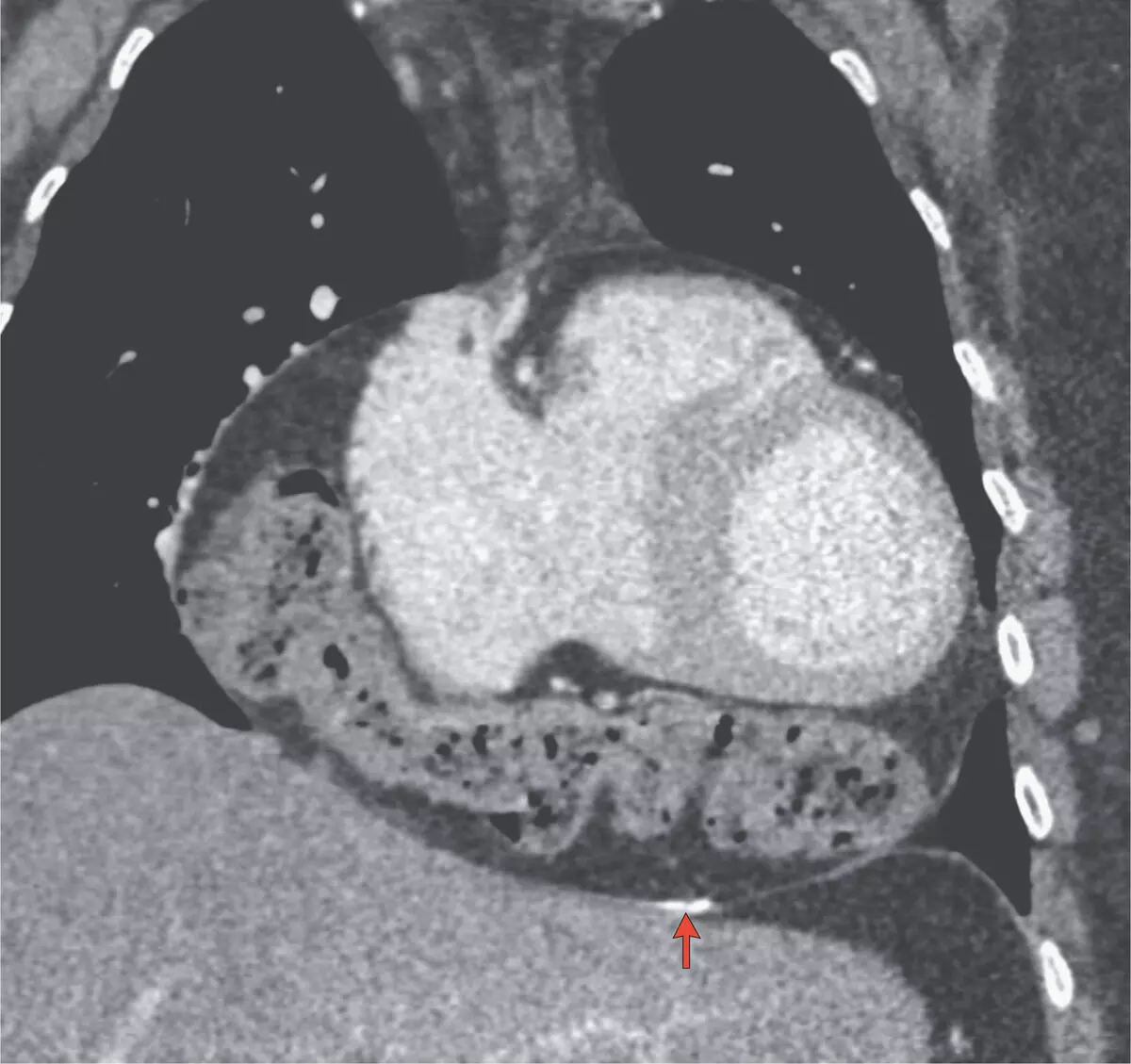 An interesting image published in NEJM today shows a very unsual cause of palpitations arising due to an extracardiac cause.
A 54-year-old woman presented to the emergency department with palpitations that she noted were relieved when she passed gas or had a bowel movement. Her medical history was notable for constrictive pericarditis that had occurred 15 years earlier and had been treated with pericardial drainage.
Because of the atypical presentation, thoracic–abdominal–pelvic computed tomography with intravenous contrast material was performed, which revealed the presence of the transverse colon within the pericardial cavity. Pericardial calcification was also visible (arrow).
Intrapericardial colon is considered to be a type of diaphragmatic hernia and in this case was thought to be related to the patient's previous pericardial procedure. Laparoscopic surgery was performed to remove the colon from the pericardium, and silicone mesh material was used to repair the diaphragm. The patient was discharged 5 days after surgery. The palpitations resolved, and at follow-up 1 year later, she had had no recurrence.
Diaphragmatic hernia is a birth defect where there is a hole in the diaphragm (the large muscle that separates the chest from the abdomen). Organs in the abdomen (such as intestines, stomach, and liver) can move through the hole in the diaphragm and upwards into a patient's chest. When an organ pushes through the hole, it is called a hernia.
Intrapericardial diaphragmatic hernia (IPDH) is defined as prolapse of the abdominal viscera from the peritoneal cavity into the pericardium. IPDH often presents with symptoms of bowel obstruction, such as abdominal discomfort or vomiting. If not properly treated, life-threatening necrosis and/or perforation of the herniated contents may occur. IPDH is often a congenital etiology, but it may also be caused by prior trauma or interventional and surgical procedures.
IPDH is the rarest of all non-hiatal diaphragmatic hernias, is a sacless hernia. It can have a traumatic, congenital, or iatrogenic etiology. Among these three etiologies, an iatrogenic cause is extremely rare. Iatrogenic IPDHs have reportedly occurred after coronary artery bypass grafting using a right gastroepiploic artery graft and subxiphoid epicardial pacemaker insertion through a pericardial-peritoneal window.
The present case is unique since it the cause was probably a history of surgery for constrictive pericarditis. The unique scenario of applications being relieved by belching or defecating gives a strong hint to a mixed cardiac-gastro etiology.
Source NEJM DOI: 10.1056/NEJMicm2028463