Hip replacement may instigate cardiomyopathy, an EHJ report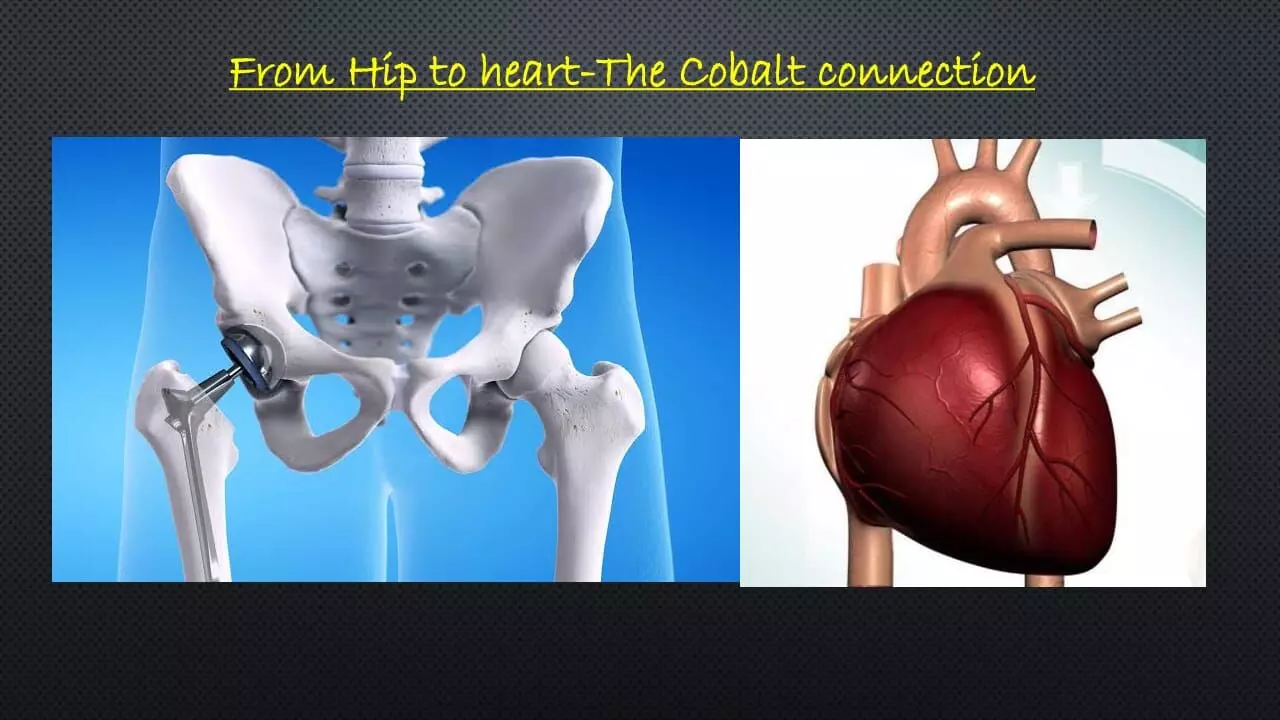 The first series of cobalt cardiomyopathy was described in the 60s in relation to the abuse of a cobalt containing beer. Latest issue of European Heart Journal reports an extremely rare situation of cobalt cardiomyopathy following hip arthroplasty.
Cobalt toxicity is an uncommon but potentially severe complication of metal-on-metal (MoM) hip arthroplasty. Cobalt and chromium metal ions could potentially be released into the circulation, especially in the setting of an metal-on-metal (MoM) arthroplasty.
A 48-year-old male patient was referred to the advanced heart failure unit.He had no cardiovascular risk factors and had been very athletic in the past. He had suffered sudden severe sensorineural hearing loss in 2018.
A total hip arthroplasty with CoC prosthesis on the right side had been performed in 2008 and on the left side in 2010, both in the setting of avascular necrosis.
In 2014, a MoP was reimplanted on right side due to acetabular fracture in previous prosthesis.
IN 2018, he developed heart failure symptoms. The echocardiogram was compatible with an early stage restrictive vs. hypertrophic cardiomyopathy with a mildly dilated left ventricle (LV), slightly thickened walls, and moderate LV dysfunction. Additionally, the magnetic resonance imaging (MRI) showed mild myocardial oedema, a small apical thrombus and subepicardial delayed enhancement in both atria and ventricles that was not present in the basal and medium septum. A 99m TC-DPD scintigraphy was performed showing no ATTR amyloidosis compatible data.
A coronary angiogram ruled out significant disease. A next-generation sequencing panel for genes associated with hypertrophic, dilated, and restrictive cardiomyopathies did not reveal any likely pathogenic variants. At that point, he was in NYHA class II under treatment with diuretics, warfarin, angiotensin-converting enzyme (ACE) inhibitors, beta-blockers, and ivabradine.
One year later, he was admitted because of heart failure. An echocardiogram showed a decline in systolic LV function. An implantable cardioverter-defibrillator (ICD) as a primary prevention was implanted and he was referred to our heart transplant unit.
The diagnosis of cobalt cardiomyopathy was suspected by exclusion of other more common causes for restrictive cardiomyopathies and confirmed by the levels of cobalt and chromium in the serum and the endomyocardial biopsy performance that showed metal deposits in myocardial tissue. Despite the removal of the metal prosthesis and a significant decrease in serum metal levels, he suffered cardiogenic shock (CS) and electric storm that required emergency mechanical circulatory support as a bridge to heart transplant.
After 8 days, he was discharged to the ward, remaining stable afterwards. There was an improvement in hearing, confirmed by an audiometry. He was discharged 24 days post-operation, with normal biventricular function.
Finally, 5 months after the heart transplant, the patient is doing well, in an NYHA functional class of I, with normal graft function.
Cobalt cardiomyopathy is a rare condition that has been observed in patients who develop cobalt toxicity after metal hip arthroplasty. The condition may improve after diagnosis and removal of the prosthesis or get worse and progress to end-stage heart failure or CS. The concern about the metal toxicity associated with metal hip prosthesis has increased in the last few years. Orthopaedic surgeons and cardiologists should be aware of this severe complication that is probably under diagnosed.
This case shows the severity of this illness and the possible evolution to electrical storm and cardiogenic shock (CS) even after the removal of the metal source and the role of mechanical circulatory support as a bridge to heart transplant.
Source: European Heart Journal - Case Reports, Volume 5, Issue 4, April 2021, ytab057, https://doi.org/10.1093/ehjcr/ytab057