Rotablation in presence of thrombus and dissection: a case report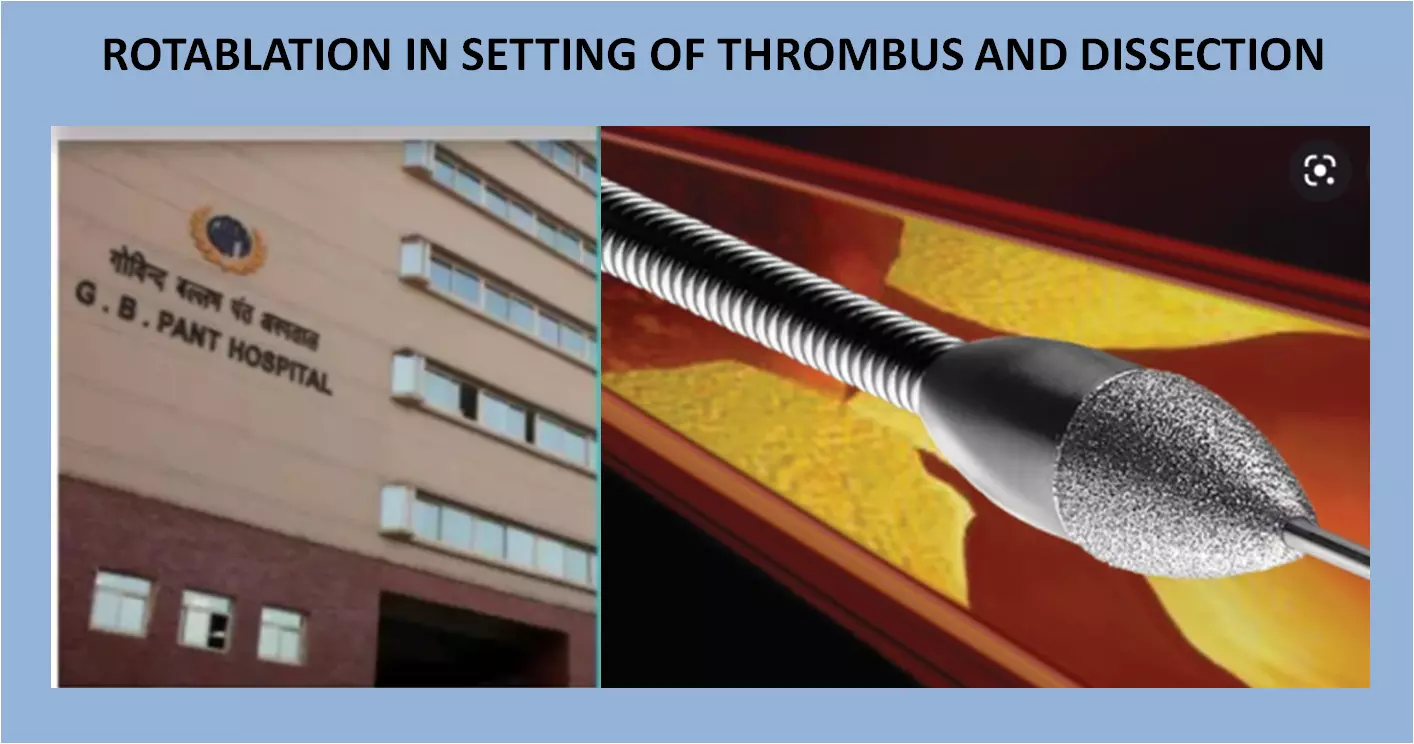 A team of cardiologists led by Dr. Saibal Mukhopadhay at GB Pant hospital, New Delhi performed Rotablation in a case of coronary dissection and thrombus which are considered contraindications as a bailout strategy.

A 60-year-old gentleman, a known case of stable angina on medical therapy for 5 months presented with rest angina, ST depressions in anterior leads and elevated Trop T levels. Coronary angiogram revealed critical calcific lesion in proximal LAD and accordingly angioplasty was planned. As the lesion was non-dilatable with non complaint and cutting balloons, plaque modification with rotablation by using 1.5 burr was done. A type B dissection was noted in proximal LAD and lesion was still non dilatable with balloon. Stent was deployed from mid to distal LAD with residual stenosis along with non flow limiting Type A dissection in proximal LAD. Staged PTCA to proximal LAD was planned the next day with 1.75 burr which was not available on same day. As patient was aymptomatic it was decided to allow dissection to heal and angioplasty to defer for next 4 weeks.
On the 9th day after angioplasty patient developed complete thrombotic occlusion of proximal LAD at the site of dissection. Rotablation, in presence of both thrombus and dissection, was successfully done adopting some precautions as an emergency bailout procedure. Patient was discharged in a stable state after 72 hours following procedure.
Rotablation is usually contraindicated in presence of dissection and thrombus. Rotablation in presence of dissection can lead to entrapment of the flap in the rotating burr leading to progression of dissection distally or sometimes there can be subintimal tracking of burr leading to perforation. In the presence of thrombus platelet activation and aggregation by the spinning burr or distal embolization of the thrombotic material promoting slow or no flow can occur.
Saibal et al said that some clinical conditions compel using rota despite presence of above contraindications.
Precautions need to be taken in such situation are highlighted in this study.
1) to start with the 1.25mm burr and follow a step up burr approach
2) brief runs not exceeding 15 s at normal recommended speed of 1 40 000–1 50 000 rpm with check for dissection propagation/ abrupt closure/perforation after each run
3) avoid rotating the burr at slower than recommended speed or deceleration of more than 5000 rpm
4) avoidance of polishing run to minimize contact time of burr with dissection flap
5) availability of a covered stent in case of perforation
6) Authors conclude-"Severe coronary dissection or acute thrombotic occlusion should remain a contraindication for rotablation."
This article's writer was a co-author of this case report.
Source: European Heart Journal - Case Reports: doi.org/10.1093/ehjcr/ytab153
Source : European Heart Journal