Valve-in-valve TAVR: Uncrossable prosthetic valve negotiated by an ingenious approach.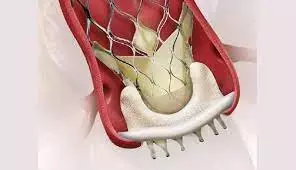 Transcatheter aortic valve replacement (TAVR) is now an established treatment modality for native aortic valve stenosis. Its implications in previous surgically or percutaneously implanted valves is also gaining acceptance. However, such valve-in valve procedures have their own unique challenges; the technique to handle one such case was published by Wong et al in the current issue of JACC.

A 73-year-old woman with a history of surgical aortic valve replacement with a bioprosthetic was referred for a valve-in-valve (VIV) procedure with a transcatheter aortic valve prosthesis in view of symptomatic, severe structural valve deterioration. VIV with a 23-mm Evolut R valve (Medtronic) under local anesthesia was planned.
But the challenge was to cross the severely stenotic surgical bioprosthetic aortic valve. Multiple catheters and guidewires were used but none could cross the valve through the aortic approach. Therefore, the strategy was changed to an antegrade approach to cross the aortic valve, considering that the procedure was performed under local anesthesia. First, a standard atrial transseptal puncture was performed under intracardiac echo- guidance. Next, an 8.5-F Agilis NxT steerable introducer (Abbott Vascular, Santa Clara, California) was introduced into the left atrium over a stiff guidewire that was placed in the left upper pulmonary vein. Through this steerable introducer, a 6-F pigtail catheter was placed into the left ventricle (LV). (Figure 1)
A standard exchange length (260 cm) J-tipped guidewire was then introduced into the pigtail catheter and was able to cross the surgical bioprosthetic valve in an antegrade fashion. The guidewire was successfully snared in the descending aorta using an Amplatz Goose Neck snare (Medtronic) and externalized from the 14-F arterial introducer sheath at the right femoral artery. (Figure 1 and 2)
An arterial–venous (A-V) loop was then formed and a 6-F pigtail catheter was introduced through this A-V loop from the arterial sheath and advanced through the surgical aortic bioprosthesis retrograde into the LV. Both the guidewire and the antegrade pigtail catheter were subsequently removed together with the steerable introducer from the venous system. A standard transcatheter aortic valve replacement (TAVR) procedure was then performed. After pre-dilatation with an 18-mm True Dilatation balloon (Bard, Tempe, Arizona), the transcatheter heart valve was successfully implanted with no significant peridevice leak and an invasively measured gradient of 5 mm Hg (Figure 2).
In conclusion, the antegrade–retrograde technique and A-V loop formation are widely applied techniques in the field of coronary chronic total occlusion and congenital heart procedures. This case illustrates that this technique can also be useful as a bailout solution in an uncrossable aortic bioprosthesis during VIV, especially when standard methods fail.
Source: JACC cardiovascular interventions: J Am Coll Cardiol Cardiovasc Interv. Dec 23, 2020. Epublished DOI: 10.1016/j.jcin.2020.11.012