Cardiac MRI and catheterization- what a clinician must know.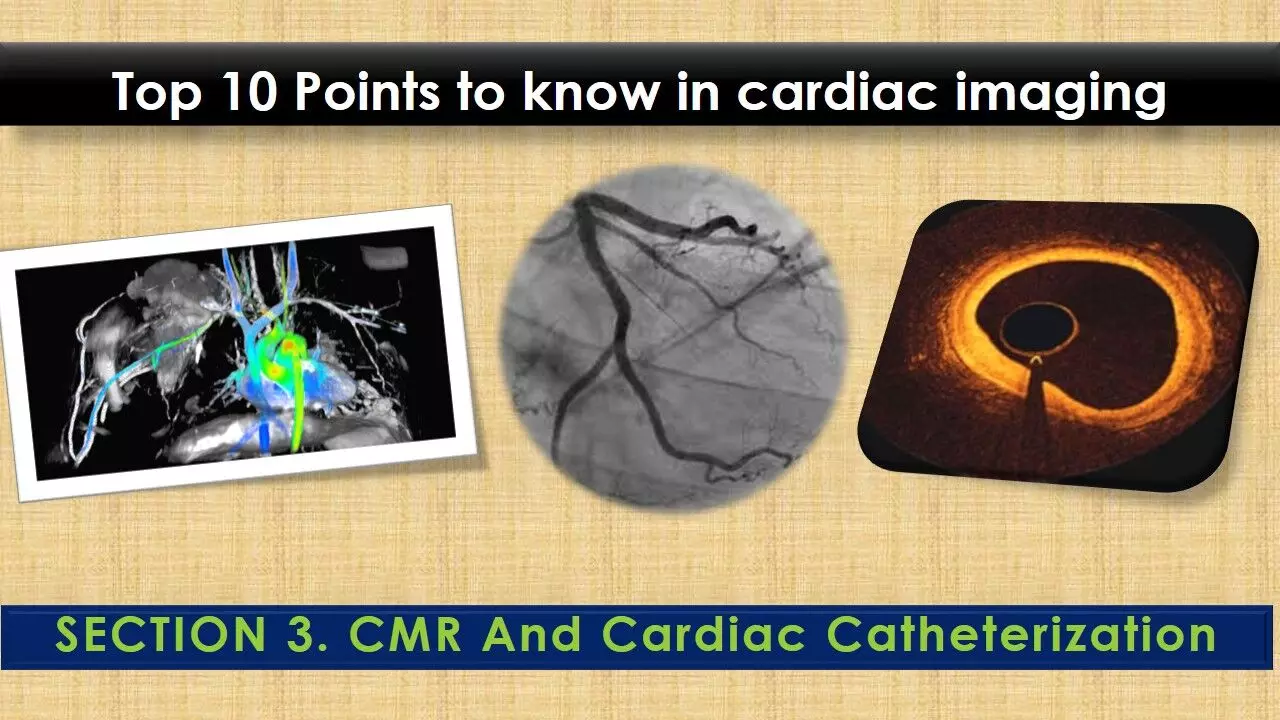 Imaging tests that can assist the clinician with the diagnosis and prognosis of CVD include imaging studies of the heart and vascular system, as well as imaging studies of other body organs applicable to CVD risk. In this final article of the series, we bring to you the most important points to consider while utilizing two of the best and most accurate investigations available to diagnose cardiac disorders- Cardiac MRI and catheterization.
This literature is summarised from "ASPC Top Ten Imaging" review published recently in American Journal of Preventive Cardiology.
1. Cardiac magnetic resonance (CMR):
CMR is an imaging study that utilizes magnetic, radio frequency waves (not ionizing radiation) to create cross sectional/2-dimentional, 3-dimentional, and even 4-dimentional images. CMR can help assess valvular heart disease, ischemic heart disease, cardiomyopathies, congenital heart disease, cardiac tumors, and pericardial disease (pericarditis). CMR can also measure subendocardial and subepicardial perfusion to assess for potential coronary microvascular dysfunction in patients with nonobstructive coronary artery disease.
Various application aspects of this technique are summarised below.
1. CMR may provide additional imaging information for patients when an echocardiogram is inconclusive, such as in patients with obesity.
2. Stress CMR is an example of a non-invasive functional imaging test that can assess myocardial ischemia.
3. CMR may be useful as a noninvasive imaging study for patients with suspected coronary microvascular angina.
4. CMR assesses ventricular mass, volume, and systolic function, and can be used to assess valvular heart disease and cardiac remodeling.
5. It can visualize cardiomyopathies, such as restrictive, hypertrophic, and dilated cardiomyopathies.
6. CMR can assess pericardial disease (i.e., pericarditis).
7. CMR can visualize congenital heart disorders and cardiac tumors.
8. Some patients with claustrophobia may be unable/unwilling to undergo CMR; mild sedation may help (i.e., diazepam).
9. Due to its magnetic field, CMR should not be performed on patients with devices or implants that are not certified as CMR safe. CMR can be performed in patients with many orthopedic protheses (e.g.,titanium), with some exceptions (e.g., certain screws).
10. CMR contrast dye (i.e., gadolinium) should be use with caution in patients with severe kidney insufficiency. CMR nephrogenic systemic fibrosis can occur months after exposure and may be manifest by erythematous and edematous skin plaques mainly to the extremities, joint contractures, and respiratory failure.
2. Cardiac catheterization [with or without intravascular ultrasound (IVUS) or coronary optical coherence tomography (OCT)]
Cardiac catheterization is an invasive procedure utilizing contrast (e.g., iodine) dye to assess narrowing or blockages of coronary arteries and assess cardiac structure (e.g., heart valves, left ventricular function). In addition to the imaging part of the procedure, catheterization may also allow for therapeutic PCI, repairing of septal defects, balloon valvuloplasty, or heart biopsy.
Fractional flow reserve (FFR) is often obtained via cardiac catheterization and represents the pressure differential before and after a coronary artery stenosis.
IVUS is an imaging technique that assesses both intramural (impinging on the coronary lumen) and extramural (ectatic) atherosclerotic plaque. Coronary optical coherence tomography (OCT) is an intracoronary artery diagnostic imaging study that can help visualize the microstructure of normal and diseased arteries and can identify calcified plaque and neointima formation after stent placement.
OCT may be superior to IVUS in assessing the cause of stent failure, calcific coronary disease, and MINOCA. Conversely, IVUS may be superior in patients with left main coronary artery disease, renal dysfunction, aorto-coronary ostial lesions, and chronic total occlusion.
Ten things to know about cardiac catheterization are summarised below.
1. Cardiac catheterization, potentially followed by stent placement or revascularization, is a diagnostic procedure of choice in patients with acute coronary syndrome (e.g., myocardial infarction or unstable angina).
2. Rate of major complications (e.g., death, myocardial infarction, stroke, unplanned coronary bypass grafting, and pericardial effusion) occurring is < 1 per 1000 left heart catheterizations.
3. Acute renal failure represents 17% of complications of cardiac catheterization. Risk factors include older age, presence of chronic diseases (e.g., hypertension and diabetes mellitus), high volume of contrast, heart failure, and previous kidney disease.
4. In patients with intermediate lesions (30 – 70%), FFR should be performed to assess for functional (hemodynamic) significance.
5. Cardiac catheterization might reasonably be reserved for optimal medical therapy failure i.e. in stable patients with moderate or severe ischemia and without clinically significant angina or left main CAD, an initial strategy of catherization does not provide a survival benefit.
6. IVUS characterizes (i.e., intramural and/or extramural) and quantifies (i.e., area, volume) atherosclerotic plaque.
7. IVUS provides incrementally additional information regarding the arterial vessel wall, vessel dimensions, and plaque characteristics that may help optimize stent placement and mitigate stent complications.
8. IVUS can help evaluate stent failure (i.e., stent thrombosis or stent restenosis).
9. OCT is a catheter-based imaging technology that can characterize coronary artery plaque, identify vulnerable coronary artery plaque, characterize and identify intracoronary thrombosis (red and white thrombi), and assess neointima formation after stent placement.
10. OCT can provide guidance for coronary interventions, such as determine the lesion length and vessel lumen diameter, which may assist with PCI procedures.
Source: American Journal of Preventive Cardiology: https://doi.org/10.1016/j.ajpc.2021.100176