Treatment and Prevention of Hypertension with Personalized Exercise: EAPC/ESC consensus statement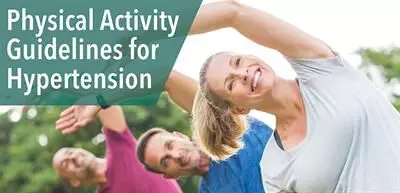 Treatment of hypertension and its complications remains a major ongoing health care challenge. Recently, the European Association of Preventive Cardiology (EAPC) and the European Society of Cardiology (ESC) Council on Hypertension have made a consensus document on the most effective exercise to lower blood pressure. The panel recommends specific activities according to an individual's current blood pressure level. The consensus document was published in the European Journal of Preventive Cardiology, a journal of the European Society of Cardiology.
It is estimated that by 2025, around 60% of the world's population will have hypertension. Physical inactivity has contributed to the rising prevalence of hypertension, but patients who exercise or engage in physical activity reduce their risk of stroke, myocardial infarction, and cardiovascular mortality. Therefore, the current international guidelines on cardiovascular disease prevention provide generic advice to increase aerobic activity. However, physiological responses differ with blood pressure (BP) level, and greater reductions in BP across a population may be achievable with more personalized advice.

Dr Henner Hanssen and his team conducted a systemic review of meta-analyses to determine whether there was sufficient evidence for a scientific Consensus Document reporting how exercise prescription could be personalized for BP control. This consensus document, for the first time, used an analysis of the highest quality evidence to produce detailed guidance on how to lower blood pressure in people with hypertension, high-normal blood pressure, and normal blood pressure.
Personalised Exercise Prescription by Blood Pressure Level:

For each of the three groups, the paper outlines the first exercise priority for lowering blood pressure, followed by alternatives that still achieve reduction but to a lesser extent.
For patients with hypertension (more than140/90 mmHg), the panel recommends aerobic exercise such as walking, running, cycling or swimming. The panel said, "Aerobic Training is recommended in patients with hypertension with expected BP reductions in the range of −4.9 to −12 mmHg systolic and −3.4 to −5.8 mmHg diastolic."
"In people with hypertension, the blood pressure reduction that can be achieved with aerobic exercise is the same, or even slightly more, than taking a single antihypertensive medication," said Professor Hanssen.
For patients with high-normal blood pressure (130-139/85-89 mmHg), the panel said, "Dynamic Resistant Training (DRT) can be recommended with a BP reduction in the range of −3.0 to −4.7 mmHg systolic and −3.2 to −3.8 mmHg diastolic." DRT refers to strength training typically involving at least six large muscle groups where muscle contraction results in movement, such as lifting weights, squats, and push-ups.
Concerning patients with normal blood pressure (less than 130/84 mmHg) but with risk factors for the development of hypertension, they noted, " Isometric Resistance Training (IRT) may be recommended with an expected BP reduction of −5.4 to −8.3 mmHg systolic and −1.9 to −3.1 mmHg diastolic." IRT involves static contraction of the muscles, such as the handgrip exercise.
However, these findings are based on three meta-analyses with a total number of only 17 RCTs, but with sufficient AMASTAR Scores.
The authors concluded, "There is sufficient evidence from meta-analyses that AT is a useful and effective treatment option to lower BP in patients with hypertension and high-normal BP as well as individuals with normotension. This Consensus Document gives updated evidence for the BP-lowering effects of exercise and is the first to focus on the implementation of personalized exercise prescription."
They further added, "Despite the unequivocal benefit of exercise in hypertension, it remains significantly underused, in part due to the lack of knowledge, fear, and inertia of physicians. It may be possible to develop the use of exercise as an anti-hypertensive treatment strategy by motivational support to improve adherence, individualization of exercise prescription, and close-meshed guidance by caretakers."
For further information:
DOI: https://doi.org/10.1093/eurjpc/zwaa141
Article Source :
European Journal of Preventive Cardiology