Dapagliflozin may reduce atrial fibrillation/flutter in diabetes patients: Circulation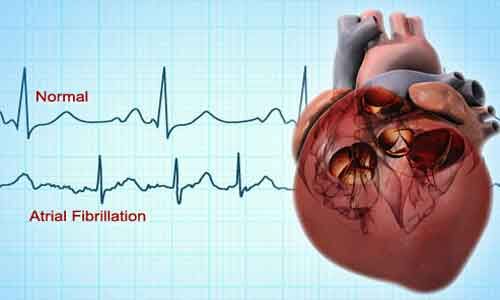 Delhi: SGLT2 inhibitor dapagliflozin reduced the incidence of reported episodes of atrial fibrillation/atrial flutter (AF/AFL) adverse events in high-risk patients with type 2 diabetes, according to a recent study published in the AHA journal Circulation. This effect was consistent regardless of the patients' prior history of AF, ASCVD, or HF (heart failure).
Atrial fibrillation and atrial flutter are associated with diabetes and its comorbidities include heart failure, obesity and hypertension. Sodium-glucose cotransporter 2 inhibitors (SGLT2i) have been shown to have multiple favourable effects including reductions in heart failure and kidney failure in a broad population of patients. Stephen D. Wiviott, Cardiovascular Division, Brigham and Women's Hospital and Harvard Medical School, Boston, MA, and colleagues, therefore, hypothesized that SGLT2i may reduce the risk of AF/AFL.
The researchers conducted a posthoc analyses of a the DECLARE-TIMI 58 trial, which tested dapagliflozin against placebo in more than 17,000 patients with type 2 diabetes and atherosclerotic cardiovascular disease or multiple risk factors for such disease. In the present study, they explored the effect of dapagliflozin on the first and total number of AF/AFL events in patients with (n=1,116) and without prevalent AF/AFL using Cox and negative binomial models, respectively
Key findings of the study include:

Dapagliflozin reduced the risk of AF/AFL events by 19% (264 versus 325 events, 7.8 versus 9.6 events per 1000 patient-years, hazard ratio 0.81).
The reduction in AF/AFL events was consistent regardless of the presence or absence of a history of AF/AFL at baseline (Prior AF/AFL: HR 0.79, No AF/AFL: HR 0.81).
The presence of ASCVD (HR 0.83) versus MRF (HR 0.78), or a history of HF (HF: HR 0.78, No HF: HR 0.81) did not modify the reduction in AF/AFL events observed with dapagliflozin.
There was no effect modification by sex, history of ischemic stroke, HbA1c, body mass index, blood pressure, or Egfr.
Dapagliflozin also reduced the total number (first and recurrent) of AF/AFL events (337 versus 432; incidence rate ratio 0.77).
"The new findings for the first time "suggest that there may be an additional benefit of SGLT2i in reducing new and recurrent atrial fibrillation," wrote the authors.
The study, "Effect of Dapagliflozin on Atrial Fibrillation in Patients with Type 2 Diabetes Mellitus: Insights from the DECLARE-TIMI 58 Trial," is published in the journal Circulation.
DOI: https://doi.org/10.1161/CIRCULATIONAHA.119.044183
Source : journal Circulation