Thyroid dysfunction may reduce survival in CHF compared to euthyroid patients: Study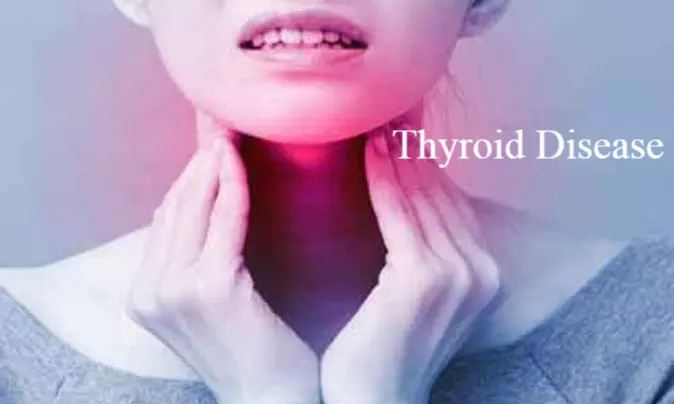 Researchers have found in a new study that Thyroid dysfunction is associated with a reduced survival rate in CHF compared to euthyroid patients.Patients with Hyperthyroidism or Hypothyroidism, when experience cardiac failure are at high risk of mortality compared to patients without thyroid dysfunction, suggests a new study which was published on The American Journal of Cardiology on October 24, 2020.
Subclinical thyroid dysfunction is very common in patients with chronic heart failure but there is conflicting evidence regarding its prognostic significance. A research team with a young researcher Nathan A. Samuel conducted a retrospective study to evaluate the relation between thyroid function and prognosis in a large, well characterized cohort of ambulatory patients with CHF. They included 6,782 patients with chronic HF from the Hull LifeLab registry referred to a community HF clinic from March 2000 to March 2018. among which 90% of patients were euthyroid (TSH:0.35 mIU/L and 4.7 mIU/L), 6% were hypothyroid ( TSH: more than 4.7 mIU/L) and 4% were hyperthyroid (TSH: less than 0.35 mIU/L).
On univariable analysis, the researchers found both hypothyroid patients and hyperthyroid patients had a greater risk of death compared with euthyroid patients. " There was a U-shaped relation between TSH and outcome" Nathan A. Samuel said.
Researchers found a weak but significant association between increasing Thyroid-Stimulating Hormone and outcome (mortality) in patients with heart failure with normal ejection fraction. However, the researchers also found Subclinical hypothyroidism is associated with mortality in univariable analysis, but the association disappears after adjustment for age and natriuretic peptide level.
"It is important to check thyroid function at baseline in patients with newly diagnosed HF since both hypo- and hyperthyroidism can cause HF" Samuel added.
The three strongest predictors of adverse outcome according to researchers were increasing age, increasing NT-proBNP, and higher NYHA class.
The authors concluded, "although thyroid dysfunction is associated with worse survival in patients with CHF, it is not an independent predictor of mortality".
For further information:
https://www.ajconline.org/article/S0002-9149(20)31140-1/fulltext
Article Source :
The American Journal of Cardiology