Mavacamten in HOCM, is it good enough to replace older therapies?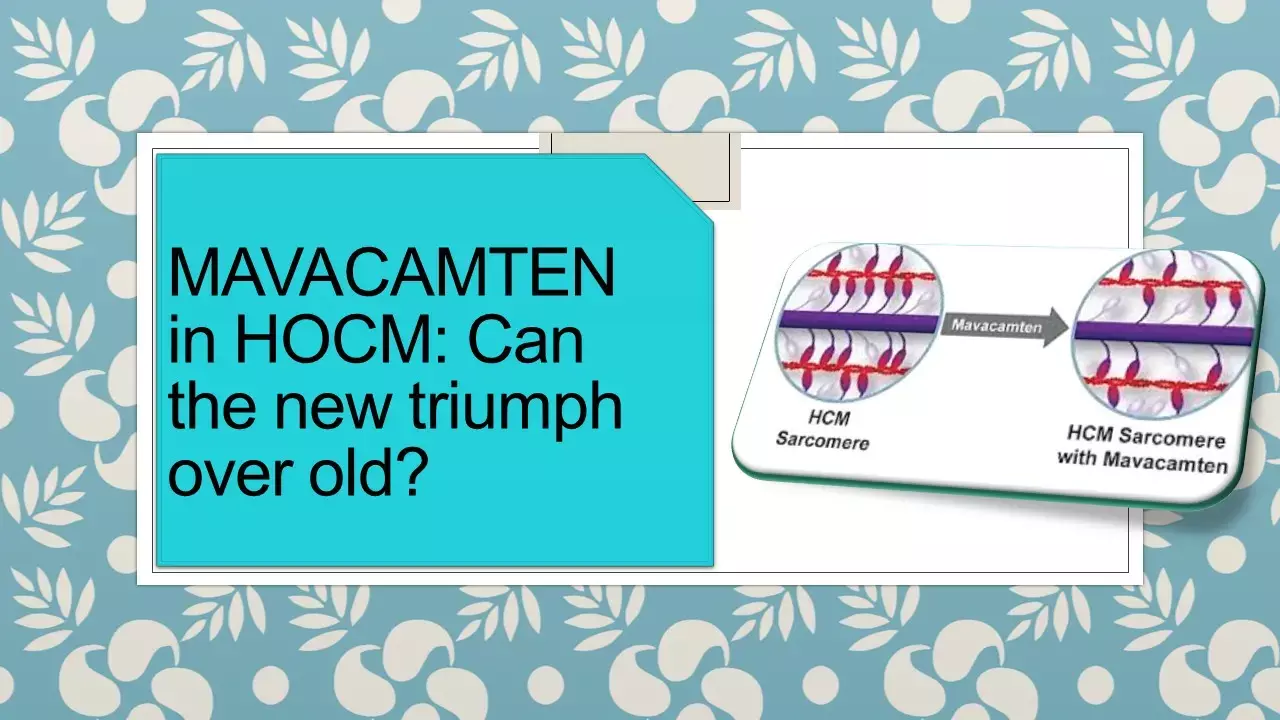 The application of contemporary treatment strategies to hypertrophic cardiomyopathy (HCM) has transformed its prognosis from one of grim progression to one now compatible with normal longevity and excellent quality of life. Various therapies including drugs like betablockers, disopyramide etc and ablation therapies both surgical and catheter assisted have been in practice for a long time. Recently Mavacamten, a myosin inhibitor, represents the first pharmacological strategy advanced for HCM in nearly 35 years, culminating recently with publication of a phase 3 randomized clinical trial (EXPLORER-HCM [Mavacamten for Treatment of Symptomatic Obstructive Hypertrophic Cardiomyopathy]).

Given the enthusiasm surrounding this novel drug, even before Food and Drug Administration approval, it is time to evaluate in retrospect all the available evidence regarding the available therapies of HOCM and ascertain the true position of this now acclaimed "wonder drug".
The mechanics of HOCM:
Left ventricular (LV) outflow tract obstruction results when the hypertrophied ventricular septum alters blood flow and creates abnormal hemodynamic forces that push the often-elongated mitral valve forward toward the septum, impeding flow and producing high LV systolic pressures. Mavacamten reduces the number of available actin-myosin cross-bridges, reduces myocardial contractility and can decrease mitral valve-septal contact and outflow tract gradients.
How effective is the new therapy?
The potential clinical benefit was attributed to the gradient reducing property of Mavacamten in the EXPLORER trial which showed that over 30 weeks, 37% of the patients on mavacamten achieved the primary end point (compared with 17% on placebo), with 27% of patients demonstrating both relief of symptoms and gradient (to <30 mm Hg). Mavacamten also demonstrated profound LV remodeling, including decreases in maximal LV wall thickness of up to 8 mm and LV mass regression comprising about 25% of total heart muscle in 30% of patients
If its so good then why not call it the best?
The study cohort of this trial comprised predominantly NYHA class II patients (72%) and a minority of class III patients, similar to previous drug studies in HCM. In contrast, studies of invasive septal reduction therapy (SRT) with myectomy and alternatively alcohol septal ablation comprised patients in whom >90% were severely limited (in class III/IV). Second, two-thirds of mavacamten-treated patients did not achieve the study end point, and 50% of patients were still limited by class II/III symptoms.
In this regard, it is important to note that EXPLORER-HCM did not directly compare mavacamten with time-honored therapies in HCM known to lower gradient and improve symptoms.
Is the old still "gold"?
When myectomy is performed in expert centers, subaortic gradients are abolished in >95% of patients, compared with only about 50% with mavacamten (Figure). As a result, surgery reverses symptoms in nearly all patients, including >70% who are improved from class III to class I, and is associated with excellent long-term survival similar to an age-matched general population. No data are provided on how many of the class III patients in EXPLORER-HCM improved to class I. SRTs are now performed with low operative risk (0.5%).
The observation that SRT provides superior gradient reduction reflects the challenges of treating a mechanical cause of heart failure symptoms with drug therapy.
The incomplete gradient reduction observed with mavacamten is also similar to the experience of other negative inotropic drugs used in HCM, including disopyramide (slightly less gradient reduction, but similar improvement in symptoms compared with mavacamten) and β-blockers (negligible effect on resting gradients).
Is there a dark side too?
By virtue of its mechanism of action, mavacamten did produce transient systolic dysfunction in ≈10% of patients, with ejection fractions decreased to as low as 35%, including 2 patients who developed acute stress cardiomyopathy. Almost certainly, careful and diligent surveillance with echocardiography and possibly serum levels will be required for chronic drug administration to monitor stability of ejection fraction.
Then what's the take home message for a cardiologist?
The data from this phase 3 trial may provide support for considering this drug in patients whose symptom burden is insufficient to justify SRT. In addition, mavacamten could be considered for patients with severe symptoms in whom SRT is not possible or not aligned with the patient's wishes, or when access to such treatments is not readily available.
However, with gradient reduction and symptom relief inferior compared with myectomy or alcohol septal ablation, mavacamten cannot at this time be considered a suitable replacement for SRT for most severely symptomatic refractory obstructive HCM patients.
Source: Circulation: https://doi.org/10.1161/CIRCULATIONAHA.120.051330