When to Introduce time tested drug Amlodipine to manage Hypertension?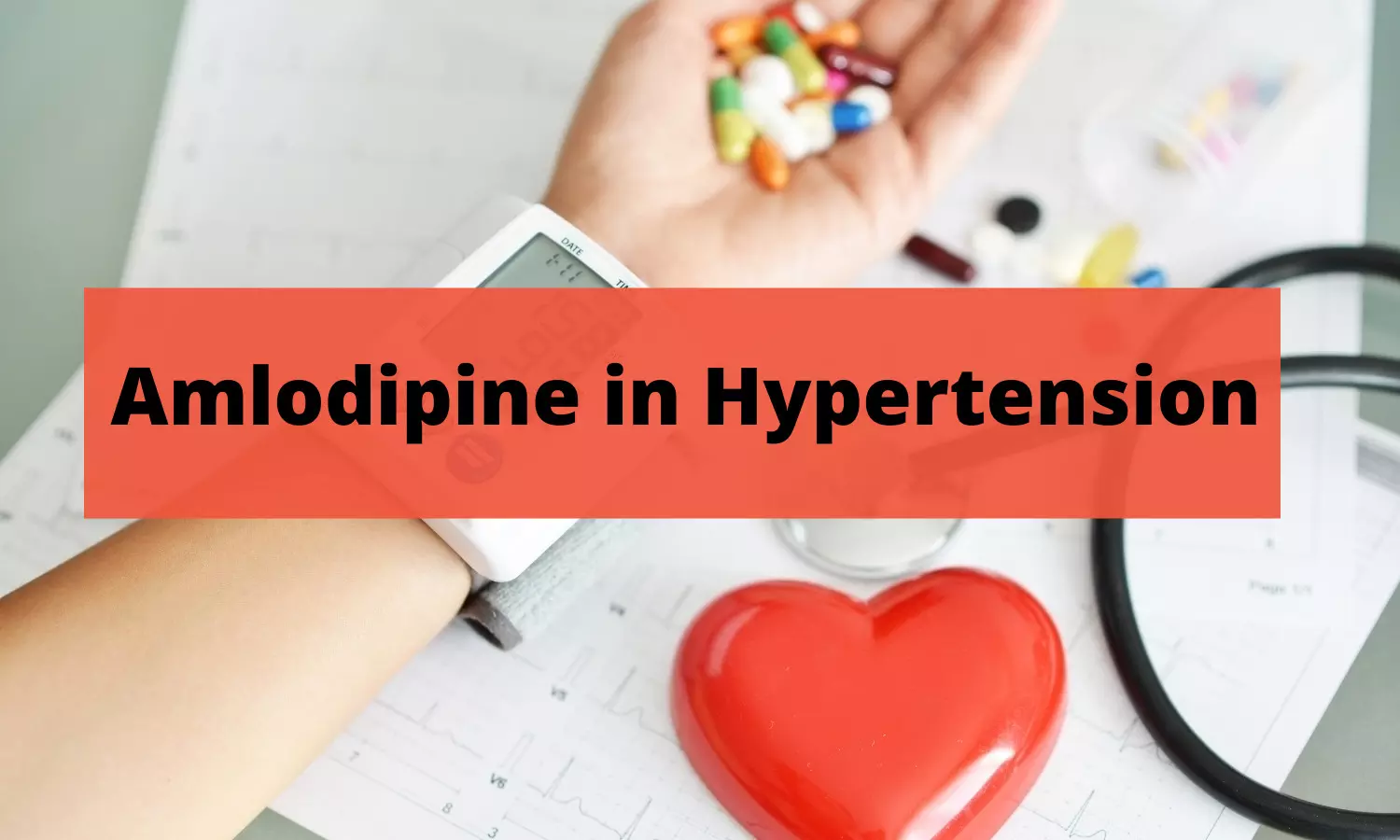 Amlodipine: Is old still gold? Hypertension is one of the most important risk factors for cardiovascular disease. There exist more than three decades of experience with calcium channel blocker (CCB) amlodipine in the management of hypertension (HTN). But one of the most relevant questions for any practicing physician or cardiologist today is when to choose amlodipine over other classes of...
Amlodipine: Is old still gold?
Hypertension is one of the most important risk factors for cardiovascular disease. There exist more than three decades of experience with calcium channel blocker (CCB) amlodipine in the management of hypertension (HTN). But one of the most relevant questions for any practicing physician or cardiologist today is when to choose amlodipine over other classes of drugs like ACE-inhibitors or ARBs? Is there any cardiovascular benefit with amlodipine usage? When to initiate and how to titrate amlodipine regimens?
The following review addresses these questions and provides insights into the unique pharmacodynamics and pharmacokinetic properties of this drug that translate into its well-known clinical benefits.
Amlodipine: Why better than other drugs?
CCBs have first introduced over 35 years ago initially for coronary heart disease (CHD), but they soon gained wide recognition for their efficacy in HTN. (1) Amlodipine has many unique qualities that set it apart from other agents in this class.
It is a long-acting, lipophilic, third-generation dihydropyridine (DHP) CCBs. By virtue of this property, it is usually dosed on a once-daily basis, which is favorable for patient compliance. (2)
A starting dose of 5 mg is usually recommended with a maximum daily dose of 10 mg. Amlodipine has a gradual onset of action and hence no significant reflex neuroendocrine activation. Thus the risk of reflex tachycardia is less and negative effects on lipid and carbohydrate metabolism are minimal. (2) These notable adverse effects are commonly seen with other agents including the first-generation β-blockers (BBs; such as atenolol and metoprolol) and an earlier generation of DHPs. (3)
Besides amlodipine also has a slow rate of elimination over 40–60 hours. If amlodipine is discontinued, BP generally returns to baseline over 1 week without any dangerous rebound elevations in BP (unlike clonidine). (2)
Diurnal variations in BP and unique advantages of amlodipine:
Vascular diseases of both the small and large arteries highlight the unique phenomenon of morning BP surge (4,5). Various mechanisms like early morning activation of pressor neurohumoral factors, (6) and dysfunction of baroreceptor reflexes in early morning hours are considered to be the underlying mechanisms.( 7)
It has been found that the BP-lowering effect of long-acting calcium channel blockers like amlodipine depends on the baseline BP level therefore, the higher ambulatory BP levels decrease more extensively, the lowest nocturnal BP does not decrease as much, and, thus, the morning BP surge decreases significantly. (7)
In a study comparing amlodipine with intermediate-acting ACE receptor blocker (ARB), valsartan, in monotherapy, the reduction in morning SBP surge was significantly greater in patients treated with amlodipine (−6.1 vs. +4.5 mmHg, P<0.02). (8)
Interesting results were obtained in a study comparing high-dose (10 mg) amlodipine monotherapy with aliskiren/amlodipine (150/5 mg) association. In this study, the high dose of calcium antagonist controlled the morning BP and reduced morning BP surge better. (9)
Kwon et al in their randomized study compared losartan with amlodipine and found that amlodipine had a greater tendency than losartan to produce a blunt morning surge. (10)
Prognostic implications of morning BP control
A number of studies support an independent relationship of morning BP surge with organ damage, cerebrovascular complications, and mortality. (11) For example, an exaggerated morning surge in BP constitutes a risk for stroke independent of 24-hour BP. (12) This morning surge has also been incriminated in the causation of hypertensive heart disease, albuminuria in diabetics, increased plaque vulnerability, etc. (13,14)
Thus, stringent BP control in the morning hours with drugs like amlodipine can serve to drastically reduce the complications of end-organ damage in hypertensives.
Coexisting conditions and safety of amlodipine:

Hypertension often coexists with CAD, LV dysfunction, diabetes, etc. studies have shown amlodipine to have a neutral effect on these conditions and thus is a safe option as monotherapy or combination when such conditions complicate HTN.
The CAMELOT trial, enrolled patients with angiographically documented CAD and randomized them to amlodipine 10 mg, enalapril 20 mg, or placebo and followed them over 24 months. This study found that normotensive patients treated with amlodipine show reduced rates of CV events and hospitalizations compared with enalapril and evidence of slowing of atherosclerotic progression. (15)
A Japanese study, although small, investigated the effect of losartan and amlodipine on left ventricular (LV) diastolic function in patients with mild-to-moderate HTN and found amlodipine to be non-inferior to ACE I. (16)
The FACET trial comparing amlodipine and fosinopril's effect on lipid and glucose metabolism did not find any significant difference between the 2 drugs and thus it can be inferred that amlodipine is as safe as ACE-I for patients with dyslipidemia and diabetes. (17)
Renoprotection with Amlodipine

While CKD may be a relative or absolute contraindication for antihypertensives like ACE-I and ARBs, amlodipine has been shown to provide renoprotection by slowing the decrement of GFR in CKD patients when compared to HCTZ. (18)
HTN coexisting with Heart failure

Traditionally CCBs have been contraindicated for the treatment of angina or HTN in patients with HF due to side effects like reflex tachycardia (3).
But due to its long half-life and lesser potential to cause reflex neurohumoral activation amlodipine is theoretically safe in this setting. This fact was clinically proven by the PRAISE trial which established the safety of amlodipine for angina and HTN in patients with advanced LV dysfunction. Amlodipine showed a 45% reduction in mortality in patients with severe non-ischaemic NYHA class III and IV HF with an LV ejection fraction (LVEF) of <30% despite being on digoxin, diuretics, or an ACEI. (19)
Concluding remarks:

Amlodipine is an excellent first-line choice among the myriad options of antihypertensive agents. With a relatively safe side effect profile, single daily dosing, and clinical experience with the drug lasting more than 35 years now, it is one of the best choices available to a clinician today. Important summarising points from this discussion are:
1. The unique property of tackling the morning BP surge has the potential to translate into a better prognosis for hypertensive patients.
2. The ability to reduce CV endpoints in patients with coexisting conditions like HF expands the indications where amlodipine can be used.
3. Besides, in the setting of CKD, where other antihypertensives are limited by their impact on disease progression, amlodipine emerges as one of the safest options available.
4. Its abilities to prevent activation of counter-regulatory mechanisms, slow the progression of atherosclerosis, confer antioxidant properties, and enhance NO production are all unique actions.
Amlodipine is a superior option in the HTN armamentarium, not only for controlling BP but also for safely improving patient outcomes.
REFERENCES

1. Triggle DJ. Calcium channel antagonists: clinical uses—past, present, and future. Biochem Pharmacol 2007;74:1–9.
2. Abernethy DR. Pharmacokinetics and pharmacodynamics of amlodipine. Cardiology 1992;80(Suppl 1):31–6.
3. Fares H, DiNicolantonio JJ, O'Keefe JH, et al Amlodipine in hypertension: a first-line agent with efficacy for improving blood pressure and patient outcomes Open Heart 2016;3:e000473.
4. Kario K. Vascular damage in exaggerated morning surge in blood pressure. Hypertension. 2007;49:771–772.
5. Kario K. Preceding linkage between a morning surge in blood pressure and small artery remodeling: an indicator of prehypertension? J Hypertens. 2007;25:1573–1575.
6. Panza JA, Epstein SE, Quyyumi AA. Circadian variation in vascular tone and its relation to -sympathetic vasoconstrictor activity. N Engl J Med.1991;325:986 –990.
7. Kario K. Morning surge in blood pressure and cardiovascular risk: evidence and perspectives. Hypertension. 2010 Nov;56(5):765-73.
8. Eguchi K, Kario K, Hoshide Y, et al. Comparison of valsartan and amlodipine on ambulatory and morning blood pressure in hypertensive patients. Am J Hypertens. 2004;17:112–117.
9. Mizuno H, Hoshide S, Fukutomi M, Kario K. Differing effects of aliskiren/amlodipine combination and high-dose amlodipine monotherapy on ambulatory blood pressure and target organ protection. J Clin Hypertens. 2016;18:70–78.
10. Kwon HM, Shin JW, Lim JS, Hong YH, Lee YS, Nam H. Comparison of the effects of amlodipine and losartan on blood pressure and diurnal variation in hypertensive stroke patients: a prospective, randomized, double-blind, comparative parallel study. Clin Ther. 2013 Dec;35(12):1975-82.
11. Bilo, G., Grillo, A., Guida, V., & Parati, G. (2018). Morning blood pressure surge: pathophysiology, clinical relevance and therapeutic aspects. Integrated blood pressure control, 11, 47–56
12. Kario K, Pickering TG, Umeda Y, et al. Morning surge in blood pressure as a predictor of silent and clinical cerebrovascular disease in elderly hypertensives: a prospective study. Circulation. 2003;107:1401–1406
13. Gosse P, Lasserre R, Minifie C, Lemetayer P, Clementy J. Blood pressure surge on rising. J Hypertens. 2004;22:1113–1118.
14. Caramori ML, Pecis M, Azevedo MJ. Increase in nocturnal blood pressure and progression to microalbuminuria in diabetes. N Engl J Med. 2003;348:261–262.
15. Nissen SE, Tuzcu EM, Libby P, et al. Effect of antihypertensive agents on cardiovascular events in patients with coronary disease and normal blood pressure: the CAMELOT study: a randomized controlled trial. JAMA 2004;292:2217–25.
16. Yamamoto K, Ozaki H, Takayasu K, et al. The effect of losartan and amlodipine on left ventricular diastolic function and atherosclerosis in Japanese patients with mild-to-moderate hypertension (J-ELAN) study. Hypertens Res 2011;34:325–30.
17. Tatti P, Pahor M, Byington RP, et al. Outcome results of the Fosinopril Versus Amlodipine Cardiovascular Events Randomized Trial (FACET) in patients with hypertension and NIDDM. Diabetes Care 1998;21:597–603.
18. DiNicolantonio JJ. Hydrochlorothiazide: is it a wise choice? Expert Opin Pharmacother 2012;13:807–14.
19. O'Connor CM, Carson PE, Miller AB, et al. Effect of amlodipine on mode of death among patients with advanced heart failure in the PRAISE trial. Prospective Randomized Amlodipine Survival Evaluation. Am J Cardiol 1998;82:881–7.