CARDIOLOGY UPDATE-ABSORB III TRIAL- 2015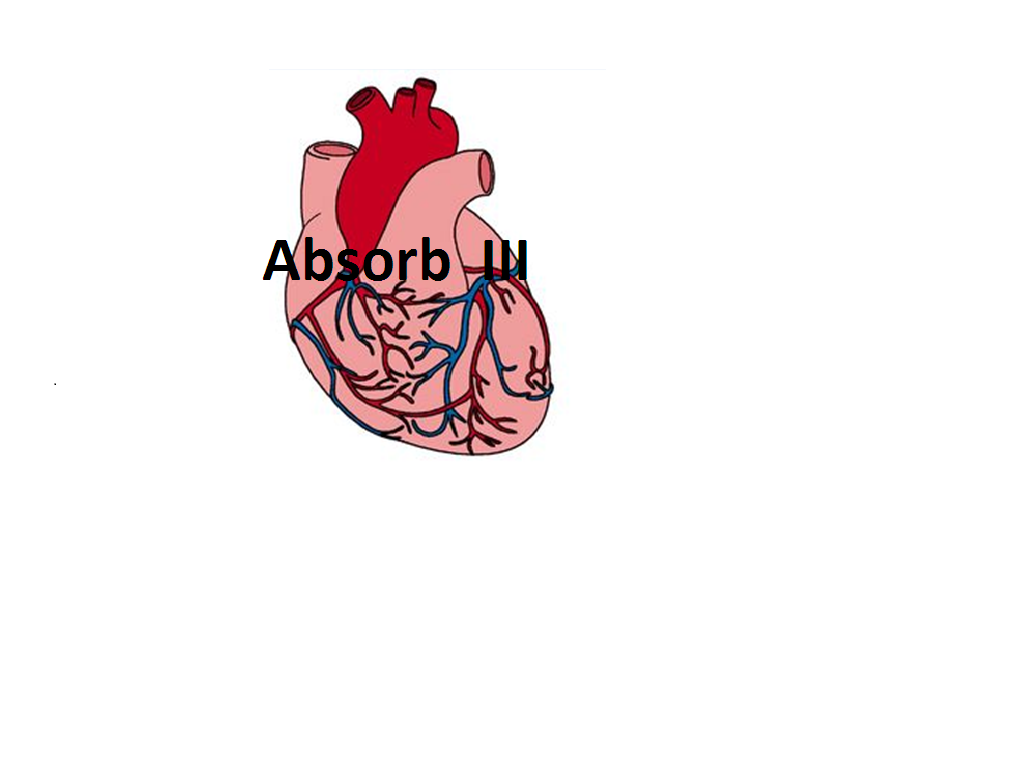 CARDIOLOGY UPDATES
ABSORB III TRIAL-
Everolimus-eluting bioresorbable scaffolds for CAD proven to be only non-inferior to Xience stent.
The fully bioresorbable Absorb vascular scaffold elutes everolimus and was developed to improve long-term outcomes after stent implantation. In previous trials and registries, the Absorb bioresorbable vascular scaffold (BVS; Abbott Vascular) has been found to be similar to the Xience cobalt-chromium everolimus-eluting stent in terms of the rates of adverse events at 1 year after implantation, but these studies were underpowered for clinical endpoints. ABSORB III was a large-scale, multicenter trial to determine the relative safety and effectiveness of the Absorb BVS compared to the Xience stent in patients with coronary artery disease.
A total of 2008 patients with stable or unstable angina were randomly assigned in a 2:1 ratio to receive an Absorb BVS or a Xience stent.
The primary endpoint of target-lesion failure (TVF; cardiac death, target-vessel MI, or ischemia-driven target lesion revascularization) at 1 year occurred in 7.8% of patients in the Absorb group and in 6.1% of patients in the Xience group (difference, 1.7%; p=0.007 for non-inferiority and 0.16 for superiority).
No differences were seen in rates of cardiac death (0.6% for Absorb and 0.1% for Xience; p=0.29), target-vessel myocardial infarction (6.0% and 4.6%, respectively; p=0.18), or ischemia-driven TLR (3.0% and 2.5%, respectively; p=0.50).
Rates of angina, all revascularization, and ischemia-driven target vessel revascularization did not differ at 1 year.
Device thrombosis (definite or probable) was seen in 1.5% of patients in the Absorb group and in 0.7% of patients in the Xience group (p=0.13).
The investigators concluded that in this large study, the Absorb BVS was non-inferior to the Xience everolimus-eluting stent with respect to target lesion failure at 1 year or any of its individual components.
Also, no differences were seen in device thrombosis, angina occurrence or the need for revascularization.
The authors suggested that longer-term follow-up is needed since the benefits of a BVS are unlikely to be fully seen at only 1 year. Also, the ABSORB IV trial is designed to more precisely determine whether there are clinically-meaningful differences in 1-year rates of TLF between these 2 devices as this study was not adequately powered for subgroup testing or to determine differences in low-frequency events. ABSORB IV will also assess quality of life differences between devices.
In an editorial that accompanied the publication of the ABSORB III data, Dr. RA Byrne acknowledged that the concept of a self-degrading stent is "intuitively attractive," but raised concern over the numerically higher rates of TVF and all its individual components in the BVS arm, even though the trial met its predefined criteria for noninferiority. He also noted the more than 2-fold higher rate of device thrombosis in the BVS arm.
"Most clinicians in everyday practice would not accept this degree of difference between two stents in their catheterization laboratories. This means that the clinical relevance of the finding of statistical noninferiority is open to question."
The Absorb BVS is currently approved in India.
References


TCT 2015 Late-Breaking Clinical Trial: Everolimus-eluting bioresorbable vascular scaffolds in patients with CAD: The ABSORB III trial. Presented by D. Kereiakes on October 12, 2015.


Ellis SG, Kereiakes DJ, Metzger C, et al. Everolimus-eluting bioresorbable scaffolds for coronary artery disease. N Engl J Med. 2015; epublished October 12, 2015.


Bryne RA. Bioresorbable vascular scaffolds—Will promise become reality? N Engl J Med. 2015; epublished October 12, 2015.