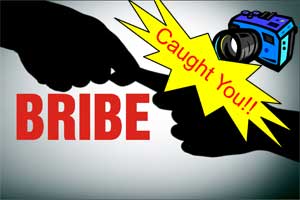 Tamil Nadu: A citizens rights group in the state, has recently made public a video, whereby the  Director and Superintendent of Government Ophthalmic hospital at Egmore is allegedly seeking a bribe of Rs 500 from a visually impaired person for a disability certificate.
While the veracity of the video is yet to ascertained, the 7-minute long video, shows Dr Sridhar, the director and Superintendent of the Government Ophthalmic hospital demanding Rs 500 from a visually challenged person as a fee to issue the certificate. The video also shows that the patient, telling that doctor that he does not have enough money, to which he is asked to get one of his friends to transfer the remaining sum. The man is then seen handing Rs 200 to what seems to be the 'doctor's assistant who in turn, hands him the certificate reports Indian Express.
"Two years ago, when I needed a disability certificate, I was referred to Dr Sridhar. He, in turn, had asked me to meet him at his private clinic in Kolathur, where he used a government seal and asked me to pay Rs 1,000," the patient, not wishing to be named told TOI.
Now, two years later, when the patient again needed the certificate in the latest format, he went prepared. Through a camera, the patient shot the entire footage of the doctor while issuing the certificate. "I have been cheated by six other people in the past who said they would pay later," TOI quotes the doctor stating in the footage.
With the video being made public, a complaint has been filed with the vigilance directorate and the ACB. Moreover, Health Secretary J Radhakrishnan has informed that an enquiry has been launched into the matter with the Dean of Kilpauk Medical College and Deputy director of medical education as members of the enquiry committee.
The DMER has also recommended the suspension of the doctor. "The committee conducted an inquiry and submitted its report. Sridhar denied that the voice in the video was his. We are checking the genuineness of the video. But I have recommended to the government his suspension and the inquiry is pending," said Dr A Edwin Joe, Director of Medical Education told The New Indian Express
2 comment(s) on Caught on Camera: Medical Superintendent taking bribe from Blind Patient