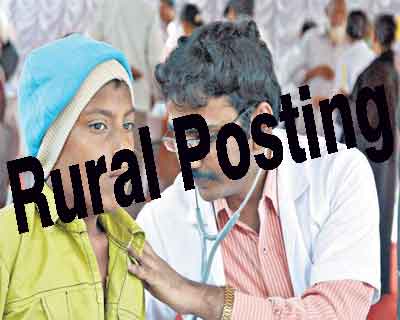 Indore: Union Health Minister Faggan Singh Kulaste said Centre is mulling to make it mandatory for doctors' to work in rural areas for a stipulated time to overcome shortage and boost healthcare services there.
"We are thinking over making rules and regulation to ensure that the doctors work in rural areas for a stipulated time. We are not averse to doctors practicing in urban areas but want to do away with their shortage in rural areas," Union Minister of State for Health and Family Welfare Kulaste said at a function here.
He said that the Health Ministry was pondering over a proposal to give pre-eminence to medical graduates who had worked in rural areas in the pre-entrance test of PG courses.
Kulaste said to do away with the shortage of doctors, 10,000 seats in MBBS courses have been increased.
He said that according to a report of World Health Organisation (WHO), a special drive will be undertaken to eradicate tuberculosis in Madhya Pradesh, Chhattisgarh, Rajasthan, Gujarat and Jharkhand.
16 comment(s) on Centre planning to make doctors work in rural areas: MOS Health, Kulaste