................................ Advertisement ................................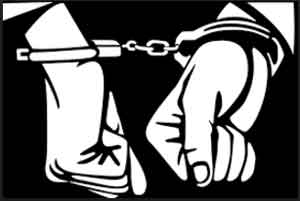 Chandigarh: In yet another incident of impersonation menace at prominent medical facilities, a 24-year-old 12th class dropout has been arrested for posing as a doctor at Postgraduate Institute of Medical Education and Research (PGIMER) recently.
The matter came to light on 8th September, when Swaran Singh, a security guard at the institute, saw the man roaming around on the third floor of Medical Out-Patient Department (OPD) carrying a doctor's bag, stethoscope and stamp. However, he was not wearing the White coat. When asked to prove his credentials, the man failed to furnish his ID card. He told the security guard that he was not a real doctor and it was his dream to be one, which is why he had been pretending to be one.
On security guard's complaint, the local police nabbed the accused and booked him under the sections 419 (punishment for cheating by personation) and 472 (making or possessing counterfeit seal, with intent to commit forgery) of the IPC at the Sector 11 police station, reports Hindustan Times.
The accused has been identified as Sumit Kumar, who stays as a paying guest in Kajheri, Sector 52, Chandigarh and hails from Kasumpti, Shimla. As stated in a report in Tribune, the accused is a Class XII pass-out and claimed that he was preparing for the National Eligibility-cum-Entrance Test (NEET).
This is not the first time that a man has been caught by the PGI. A man was arrested several years ago, who was a doctor in the Labor Department in PGI and used to check the girls, adds the local daily Bhaskar.
................................ Advertisement ................................
Few months ago, Medical dialogues reported that the Delhi police arrested a 19-year-old man, who was impersonating as a junior doctor and a medical student at All India Institute of Medical Sciences (AIIMS). 
Read Also at Medical Dialogues: 19-year old Held for Impersonating as Junior Doctor At AIIMS for past 5 months
Garima joined Medical Dialogues in the year 2017 and is currently working as a Senior Editor. She looks after all the Healthcare news pertaining to Medical Education issues, Medico-legal cases, MCI/DCI decisions, government policies as well as all the news and updates pertaining to Medical and Dental Colleges in India. She is a graduate from Delhi University. She can be contacted at editorial@medicaldialogues.in Contact no. 011-43720751
To know about our editorial team click here
................................ Advertisement ................................
1 comment(s) on Chandigarh: 12th class drop-out arrested for impersonating as Doctor at PGIMER