Charitable Hospital availing tax exemption without performing Charity: Parliamentary Panel suggest Measures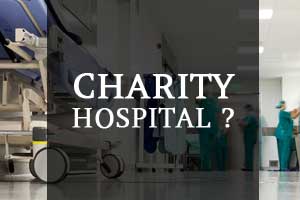 New Delhi: Noting that many charitable healthcare institutions are availing tax exemption from the government without performing charitable function, the Parliamentary Panel has recently recommended the Income Tax Department to allow exemptions to the trusts only when they provide a certificate to this effect from competent authority.
While presenting its audit observations in front of the panel, the public accounts committee said,



"The Committee note that the Income Tax Act, 1961 does not prescribe any measurable parameters to assess the extent of charitable activities being undertaken by any hospital/Trust availing the benefit of exemptions under the Act, which gives rise to a possibility of assesses availing exemption without actually performing any charitable function.



The Committee observed that under section 41AA of the Bombay Public Trust Act, 1950 (BPT Act), the Bombay High Court in 2004 introduced a scheme of measurable charity under which all charitable Trust hospitals registered under the BPT Act, 1950, and having annual expenditure of more than ` 5 lakh were required to-
a) Reserve 10 per cent of the total number of operational beds for indigent patients and provide medical treatment to these indigent patients free of cost.
b) Reserve 10 per cent of the beds for the weaker section patients for treatment at concessional rate.
c) Earmark 2 per cent of total patient billing as Indigent Patient Fund (IPF) to be utilised on the treatment of indigent patients."
It was further required that the Trust shall not ask for any deposit in case of admission of indigent patients. However,



The Committee further note that the conditions specified in the judgement were not fulfilled in some cases, however, exemptions were allowed to such trusts as the Income Tax Act does not identify non-compliance with the BPT Act as a ground to deny exemption,



"Prescribing a certain percentage of their services to be dedicated to the poor will not serve any purpose since ITD has to depend upon self-certification and there cannot be any mechanism to verify the same," the Committee observed from the reply of the ITD.



"The Committee is dismayed to note that the Trusts that are not fulfilling the criteria for charity prescribed under governing Acts of the State are able to claim exemptions under the Income Tax Act."



Considering that tax exemptions are the contribution of the Government towards the charitable cause and therefore, the charitable activities being undertaken by those seeking exemption need to be measured to justify the same, the committee stated,



"The Committee, therefore, desire that the exemption to the Trusts be only allowed on production of a certificate from a competent authority, as prescribed under the governing Act, as to the fulfilling of the requirements by that Trust. The Committee while opining that self certification is a facilitation step and cannot be an excuse for not implementing a new measure exhort the ITD to fix measurable parameters, on the lines of BPT Act, for charitable activities to justify the exemptions given to the Trusts/ Hospitals and install a robust mechanism for verifying the charitable activities carried out by any Trust/ Hospital."