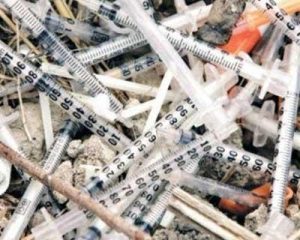 Chennai: In what appears to be a scam existing across many hospitals of the state, NGT has ordered an enquiry after a petition was filed claiming that a private hospital in the city has been seeling its solid biomedical waste to third parties, rather than disposing it according to the rules of law
The Biomedical Waste Management Rules clearly specify that a hospital cannot dispose off its biomedical waste like general waste or sell it off . Instead it has to sign an agreement with state certified Common Treatment facility provider for regulated disposal.
Enquiry was ordered when it was alleged by one Jawaharlal Shanmugam of Tiruvanmiyur that, a Chennai Hospital, Kanchi Kamakoti Childs Trust was selling its biomedical waste to a vendor at Rs 40/kg. The petitioner claimed to have received evidence about the same from a whistleblower at the hospital, its chief manager, who TOI reports to have resigned owing to the fishy activities at the hospital. He had shared the photographs with Shanmugam, and was willing to appear before the tribunal to explain the activities of the hospital.
................................ Advertisement ................................
It is implied that there could be a big cartel involved in this illegal activity and that the vendor could also be " buying" the waste from leading hospitals in the city.
When Express investigated further into the matter, it found many of the major hospitals of the city were generating paltry sum of biomedical wastes. Express reports that
................................ Advertisement ................................
As per the records, 617 hospitals have signed MoUs with two of the treatment facilities. Put together, they have a total bed-strength of 31,412 which generate just 9,666 kg of medical waste per day. This implies a paltry 307 grams per bed per day, which is far less than the conservative estimates of both the Environment Ministry and State Pollution Control Board. The Bio Medical Waste Management Rules 2016 estimate 1-2 kg of solid biomedical waste to be generated per patient per day in a hospital. 
The petitioner claimed that there is an organized cartel of people who are dealing in these activities. They buy solid biomedical waste from the hospitals, recycle, do some basic cleaning, repackage and infuse them back to the market.
"Items like syringes, blood and fluid-collecting bags, endotracheal tubes, airway connectors, special infusion syringes etc can be re-routed into the market. It is dangerous for any hospital/nursing home to buy from unauthorised or unsolicited dealers. Using these could lead to serious infections," he explained to Express.
He further alleged that hosptials are increasingsly becoming a part of this organized crime as one hand to get treatment for their biomedical waste, they have to pay Rs 39 per kg for treatment, while by selling them they earn about Rs 49 per kg.
The hospital while replying to Indian Express questioning, claimed that petition was a result of a vendetta from a former employee.  "The hospital strictly follows Biomedical Waste Management Rules and there is no chance of any kind of pilferage. We welcome any kind of investigation. Girish Shanmugam was a former administrator and he was fired following some allegations. First, let us get correspondence from the court and we will respond accordingly," said Dr Bala Ramachandran, medical director, Childs Trust Hospital.
You can read the full article at Indian Express by clicking HERE
Author Details
Meghna A Singhania is the founder and Editor-in-Chief at Medical Dialogues. An Economics graduate from Delhi University and a post graduate from London School of Economics and Political Science, her key research interest lies in health economics, and policy making in health and medical sector in the country.
She can be contacted at editorial@medicaldialogues.in.
Contact no. 011-43720751
................................ Advertisement ................................
2 comment(s) on Chennai: Bio-medical Waste Scam exposed