Chennai to host the Medicall medical equipment exhibition from July 31-August 02,2015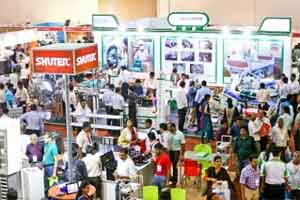 Medicall will organise the 13th edition of the annual trade show to bring together the world exhibitors of medical equipments and buyers in India on a common platform
Medicall, India's largest B2B medical exposition is to be organised this year from july 31 to August 2 2015. In its endeavour to bridge the supply of high quality medical equipment at an affordable cost, the exchibition will see participation from 20 countries around the world. Aiming at a  true bazzar style international show, it will display the   hospital equipment and supplies, ranging from surgical gloves to the most sophisticated medical equipment used worldwide.
Now in its 13th edition, the show targets to bring professional visitors exceeding 20,000 to come and make the right choice of latest technology medical equipments in the market. It aims to provide a platform where the participants can experience an intellectually stimulating discussion on the trends, and update in medical equipments. Medicall shows are held at Chennai, Ahmedabad, Kolkata and Colombo.
Generally the Medicall Medical Expo covers a number of topics and addresses a number of issues through their CMEs. Family owned hospitals to financing of hospitals, lean to six sigma, from marketing to mergers and acquisitions, have been discussed  by eminent stalwarts.
This year's seminar topics include Costing for Hospitals, Workshop on NABH Pre Accreditation entry level for Hospitals, Succession planning, Lean Six Sigma, HR in Hospitals, IT :Workshop in Social Media, SEO and Mobile Apps for Healthcare.
The innovation awards segment had attracted over 170 applicants in 2014. The innovation awards are independently managed by Bio Vedas who are the knowledge partners and strategic advisors to Medicall.
The 13th edition of Medicall will be held at Chennai Trade Centre between July 31st, August 1st and 2nd 2015. This year the innovation awards will honour worthy winners in Medical Equipment, Clinical and Surgical Practices, CSR initiatives in Healthcare and Apps, Social Media & ICT in Healthcare.
The company also announced Medicall at Mumbai in October 2016 and New Delhi in September 2017.